arrow_back Submit Scores for 19.1
Row'd Royalty 2019 Online Rowing Competition
Workout
IMPORTANT: YOU MUST SUBMIT A PICTURE OF YOUR MONITOR MEMORY!!
(not your last interval)
Total meters: 8 x 30s with 30s rest.
Row 8 intervals of 30 seconds followed by 30 seconds of rest. 
SCORE: Total Meters Rowed in all 8 intervals.
At the end, go to MEMORY > BY DATE and select the workout. Submit the # of meters for 4:00 of rowing. Do NOT include rest meters.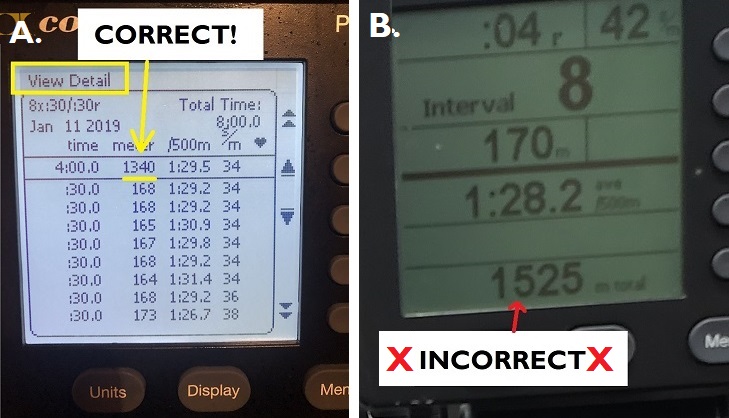 Workout Standards
YOU MUST SUBMIT THE SCORE LISTED IN YOUR MONITOR MEMORY (not the last interval total!)
---
At the end of the workout, select "MEMORY" > "BY DATE" and find the workout. Click on it and your score is the total for the 4:00m of rowing (8x30s). DO NOT INCLUDE REST METERS!
---
Set up monitor for 8 intervals of 30 secs with 30 secs of rest (see below). Damper may be set at any level. Once intevals have been set, begin rowing as fast as possible. Rest after each 30 second effort. Rolling starts are acceptable after the 1st round.
After the completion of 8 total rounds, retrieve your results from the memory on the monitor.
Monitor Set Up
[Select Workout]
[New Workout]
[Intervals Variable]
Interval 1 [TIME] 
Set "Time" to :30s (you must set the secs before changing the mins to 0)
Set "Rest" to :30s 
Press the check box.
Interval 2 [Time] .. repeat process for 8 total intervals.
Results
Use the memory/date feature to locate your workout. Select the workout and take a picture of the screen. Submit the "total meters" rowed as your score. Upload a picture of your screen. 
Support
If you have any questions about the workouts and standards, please contact the event organizer, CRAIG HOWARD — info@rowdroyalty.com
If you have questions about submitting your score visit the Help Center on how to submit online scores here