Houston Heights Affiliate Bike Tour
Event description
5 CrossFit Gyms | 5 Workouts | Community After Party
Tour the Houston Heights CrossFit affiliates by bike for this one-of-a-kind community fitness event. Participants will have a 4-hour window during which they will use the Heights Bike Trail and White Oak Bayou Trail to bike to the five host gyms in any order you choose. Each gym will perform one of the five workouts listed below. 
This is not a scored/judged event. Participants can perform whichever variation of the workout is appropriate for you. Participants may submit their own workout scores to Competition Corner but this is optional (everyone is a winner!)
After you're done, join us at the after party at the new MKT Heights with specials for our Bike Tour participants. 
Host Gyms
CrossFit Greater Heights
CrossFit H-Town
Iron Oak CrossFit
Skyline CrossFit
Vintage CrossFit
Afterparty/Social
Highline Park @ MKT Heights
Day/Time
Saturday, December 11th (8:00AM-12:00PM)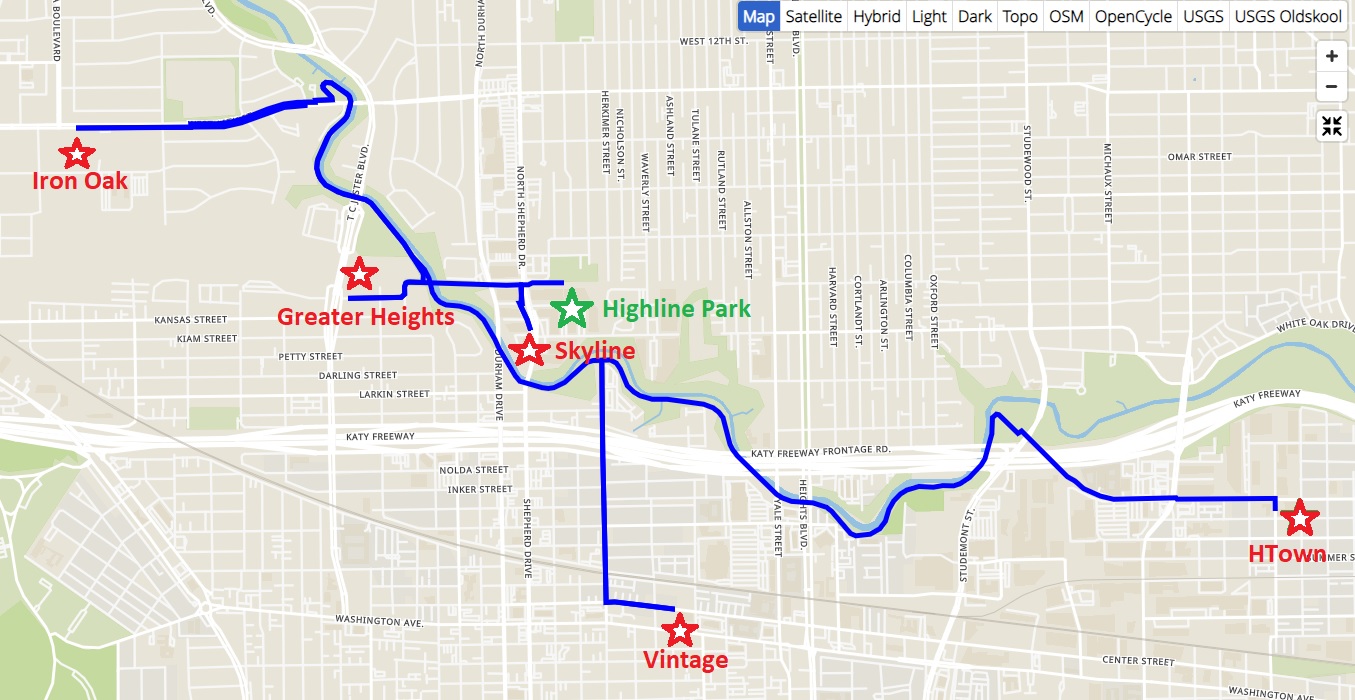 Workouts subject to change based on equipment:
Workout 1 - Row Chipper
For Time:
80 Calorie Row
60 Wall Balls 20/14
40 Lateral Burpees Over Rower
20 Bar Muscle Ups
L2
80 Calorie Row
60 Wall Balls 20/14
40 Lateral Burpees Over Rower
20 Chest to Bar Pull Ups or Chin over Bar Pull Ups or Strict Pull Ups
L3
80 Calorie Row
60 Wall Balls 14/10
40 Lateral Step Over Burpees
20 Ring Rows

Workout 2 - Bike DT
AMRAP 12
15 Calorie Bike
12 Deadlifts
9 Hang Power Cleans
6 Shoulder to Overhead
Rx: 155/105
L2: 115/75
L3: 65/45
Workout 3- Run/Bench/T2B
6 Rounds For Time Of:
200m Run
18-15-12-9-6-3 Double Dumbbell Bench Press 50's/35's
3-6-9-12-15-18 Toes to Bar
L2: 35/20's Bench Press
Hanging Knee Raises
L3:
20/10's Bench Press
AbMat Sit Ups
Workout 4- Kettlebells and Jump Rope
3 Rounds For Time Of:
30 American Kettlebell Swings 53/35
20 Kettlebell Box Step Overs 53/35 over 24"/20"
90 Double Unders
L2: 44/26 Kettlebell Swings and Box Step Overs
30 Double Unders
L3: 35/18 Kettlebell Swings
Unweighted Box Step Overs
90 Single Unders
Workout 5 - Handstands and Squats
CrossFit.com 211019
For Time:
3-minute handstand hold on wall
100 air squats
150-ft handstand walk
100 air squats
30 handstand push-ups
L2
For time:
2-minute handstand hold
100 air squats
50-ft handstand walk
100 air squats
20 handstand push-ups with AbMat
L3
For time:
3:00 Low Plank on Forearms
100 air squats
150-ft Bear Crawl
100 air squats
30 Push Ups or Knee Push Ups