Fight for Freedom 2021 - to support The Weekly Fight
Event description
RALLY THE TROOPS TO SUPPORT THE WEEKLY FIGHT
Sponsored by Compete Force USA!  
4 HERO INSPIRED WORKOUTS WILL CHALLENGE YOUR
FITNESS, GRIT, DETERMINATION AND COMMITMENT TO TEAMWORK.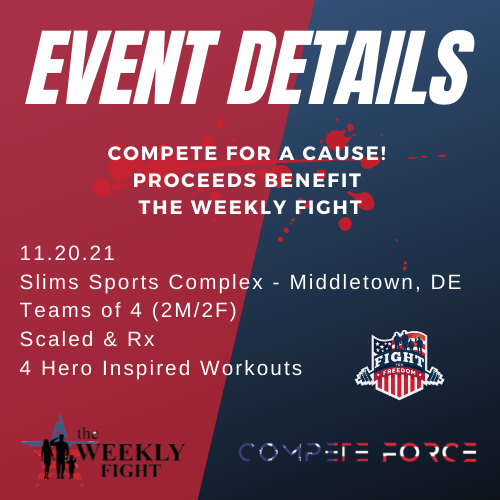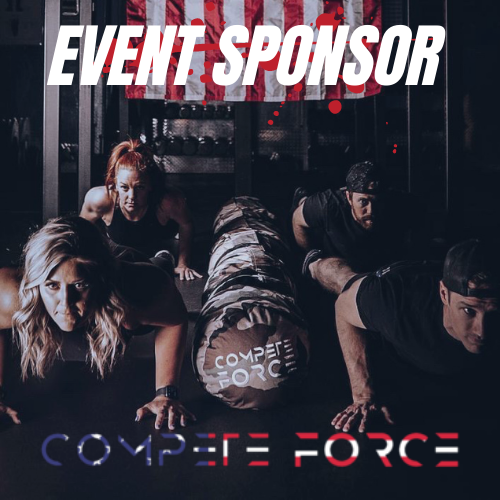 Fight for Freedom is a team competition featuring 2 males and 2 females that will take place on 11/20/21 at Slim's 16,000 square foot sports complex in Middletown, Delaware.
The competition will feature two divisions (Rx & Scaled) and will consist of 4 workouts plus a team fundraising score.  
This competition serves to benefit The Weekly Fight in funding scholarships and resources for families combating the fall-out of Post-Traumatic Stress.  
The goal is to raise $25,000 for The Weekly Fight.  The 5th "fundraising WOD" will be scored on the event leaderboard and will contibute to 8% of each team's score.  A significant portion of your registration fee will also go toward the fundraising goal.
Team Fundraising:  each team will create a team fundraising page HERE.  Instructions are included with registration, but each team must create a fundraising team on our Give Butter page (here) - please ensure that your fundraising team name matches your competition team name.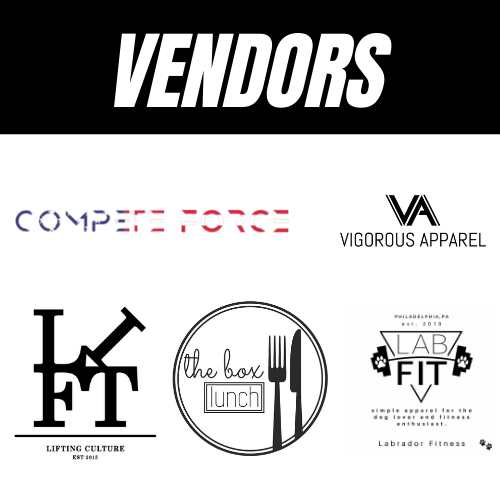 THE WEEKLY FIGHT
The Weekly Fight is a registered 501-c3 non-profit company dedicated to turning Combat Post Traumatic Stress into Post Traumatic Growth. Through weekly meetings, workouts, seminars, and community events they are creating a supportive, prevention-oriented community for Veterans and Veteran Family Members.  
The Weekly Fight hosts free workouts for Veterans, first responders and their families every week across multiple gyms in PA, VA and DE. For more information on The Weekly Fight, go to www.theweeklyfight.org.  
If your team comes from a participating TWF gym please ask your gym for a special event discount code!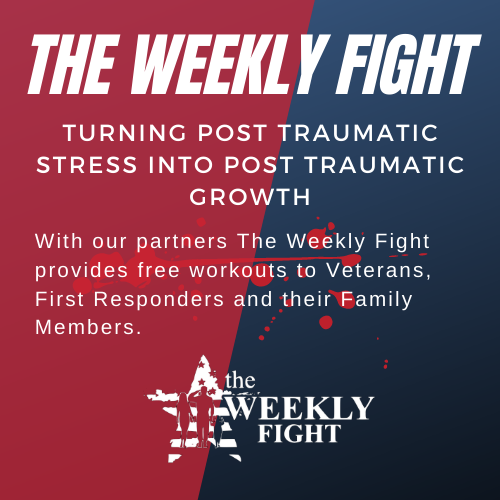 Registration Details:
No refunds. 
Substitutes allowed.
Division changes allowed. 

Division Guidelines:
Rx:  4 person Worm - CF open Rx movements/weights.
Scaled:  4 person Worm - CF Open Scaled movements/weights.
Compete Force USA Worm:  will be included in both divisions, but workouts will be desinged to ensure that competition is accessible to all fitness levels.  
FYI - workouts will NOT include:  muscle ups, pull ups, TTB.  You can expect barbells, dumbbells, bodyweight, jump rope, and of course the Worm.
Workouts 1,2 & 4 have been announced: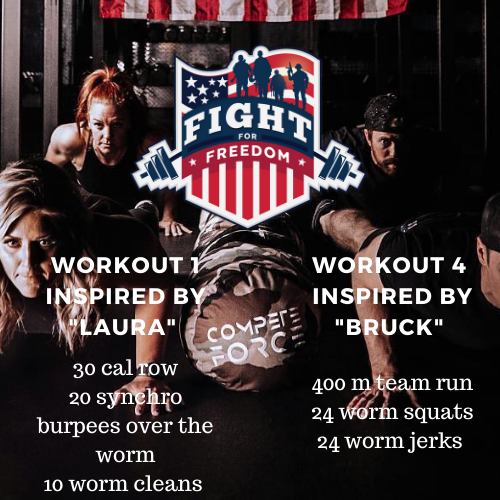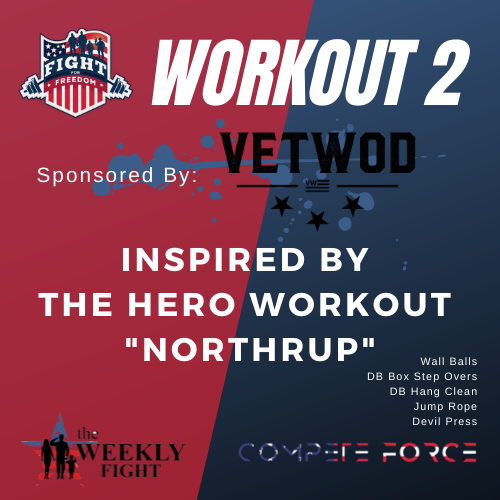 Thank you to our sponsors!