fitness_center
4th Annual Northern Fitness Games
Event description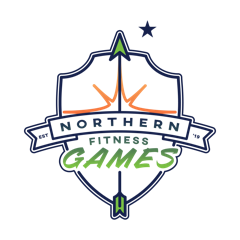 The 4th Annual Northern Fitness Games will move north again this year to Fairbanks!  We work hard each year to make this an inclusive event so all those participating can have a challenging, but fun weekend filled with a sense of accomplishment and community. 

This will be a 2 Day Event and more details will be released soon to the exact timeline for each day.  

Each team is guaranteed 4 Events on Day One and 3 Events on Day Two.  

WE PROMISE TO WRAP UP BY 3:30PM ON DAY TWO SO ALL THOSE TRAVELING FROM OUT OF TOWN HAVE TIME TO HEAD BACK HOME.
Each Athlete will receive an Athlete/ Volunteer Guidebook approximately 2 weeks prior to event start date outlining all information needed (to include Heat Assignments) for a fun and successful weekend.  

RECAP:
Teams of 4: M/M & F/F 
Divisions: Scaled, RX
**Within each division there will be both Teen and Masters weight and /or movement modifications as appropriate.

Each Athlete from the TOP 3 Teams In Both Divisions Will Receive A Prize Package!
Cool Swag Boxes filled with lots of surprises and custom shirt For EVERY ATHLETE and VOLUNTEER!

As an athlete you can expect to be tested in all areas of fitness with workouts designed to play off of your team members strengths.
More info: Contact Stephanie Allen @907-302-4122 or info@northernfitnessgames.com
----------
NO REFUNDS unless their are extenuating circumstances - please reach out if this happens and we will do what we can to help.
SUBSTITUTIONS MAY ONLY be made up til the start of the event so long as sub signs waiver and is on-site ready to go.  Please understand the sub will not be able to choose shirt/tank size and will have to take what the person they are subbing for chose (unless sub is made prior to May 8th).  Also note that on many TEAM items the subs name will not be noted.  We are on a strict timeline for having things printed in a timely manner and have to stay on track.  Thanks in advance for your understanding.
SOLE DISCRETION The Northern Fitness Games (Mark & Stephanie) reserves the right, in its sole and absolute discretion, to allow for a one-time last minute substitution within a team in the event of an unexpected circumstance, to participate in any stage of competition. This decision may be made to preserve the traditions and spirit of the Northern Fitness Games.
AGE REQUIREMENT  Athletes must be at least 14 years old on the day of the Northern Fitness Games Event. If Athletes are younger than 18 years old, a parent or legal guardian must sign waiver.  If a minor Athlete participates in the Northern Fitness Games, a parent or guardian must be onsite.
NO LATE REGISTRATIONS WILL BE ACCEPTED  In the past we allowed a few teams to jump in at last minute - that makes a logistical nightmare for us on the back side so we stand firm with our cut off date of May 9th to make this years event the best it can be.  Thanks for your understanding - PLEASE sign up early!

EARLY REGISTRATION WILL OPEN ON FEBRUARY 1, 2022  *SIGN UP EARLY FOR A DISCOUNT
REGULAR REGISTRATION BEGINS ON MARCH 1, 2022
LATE REGISTRATION BEGINS ON MAY 1, 2022 *LATE FEE APPLIED
REGISTRATION CLOSES AT 2PM ON MAY 8, 2022