Event description
Beachside Mixer 2021 is back!
"This is probably the most fun comp I've ever done"
Several People
Same Sex Pairs CrossFit Competition hosted by CrossFit Tannum Sands over two days at both our gym space at 8 Enterprise Street, Boyne Island and beautiful Tannum Sands Main Beach.
2021 will be our 4th annual Mixer - Our ethos is fun and participation. We provide opportunites to challenge yourself, maybe even try something new (have you ever kayaked real fast?), while having as much fun as possible inside and outside of the gym.
Cash prizes up for grabs for any participants, choose to split it with you partner or keep it for yourself. Stick around for the presentation to find out how to win!
Registration only is $160. BUT trust us - you won't want to miss our shirts this year...i spy our new design. Registration with comp shirts/muscles is $210.
CATEGORIES include:
RX Male
RX Female
Scaled Male
Scaled Female
RX Masters Male (35+)
RX Master Female (35+)
Scaled Masters Male (35+)
Scaled Master Female (35+)
Further Scaling Option - We offer Tier 2 Scaling for Scaled participants only; this option can be selected on the day as per the workout with your judge. 
​Tier 2 scaling will act as the Beginners option; you can choose Tier 2 scaling with each individual workout on the day. This allows a bit more flexibility to challenge yourself if you are feeling up to it, or to scale down a little and still get a cracking workout in. In terms of scoring, if a team chooses to do a workout with Tier 2 scaling, opposing teams in Scaled will be ranked ahead of them (Like in the open).
Teens, we see you! Choose your category as you normally would (RX or Scaled) and there will be best Juniors prizes at Presentation.
Frequently Asked Questions
COVID-19
The event organisers will be following the QLD Governments industry COVID Safe Event Checklist and guidelines.
All attending will be required to check-in using the QR code supplied on the day.
Heats and Schedule
Workouts, Heats lists and Schedule are all available for viewing here.
Saturday, Day 1 - you will be in the same heat number all day.
Sunday, Day 2 - you will be in different heats number with each event, Event 6 and 7 will run at the same time in two locations. PLEASE check your heat prior to Sunday Morning. 
Saturday Team Check in will be between 615am and 815am at CFTS. Heats start from 730am, please check your heat! 
You will be required to Check in with Check In Qld QR Code.
Sunday Team Check in will be at 645am at the Main Rotunda, Millennium Esplanade, Tannum Sands. 
Will there be food and drink available to purchase?
Yes!
Savour the Flavour will be on deck for all your coffee and food needs during Saturday.
There will be time on Sunday between the beach morning and Gym final event to venture out and sample a couple of Tannum Sands best local food spots - we'll hook you up!
Water and FitAid will be available for purchase ALL weekend long
Athlete Rec. Areas and Parking
Secondary Athlete Rec. Area - We will have space for team tents, chairs etc at both CFTS, 8 Enterprise Street AS WELL as Pyrotek, 9 Dennis Street; 100m directly up the street from our Driveway.
We'll have both gates open from 430pm on Friday 6th of Aug for those wanting to set up early.
Car Parking is highly encouraged at Dennis Park - our last event on Day 1 will be here; we recommend stop, drop and go at Enterprise and Dennis St and parking at Dennis Park for easy exit Sat afternoon.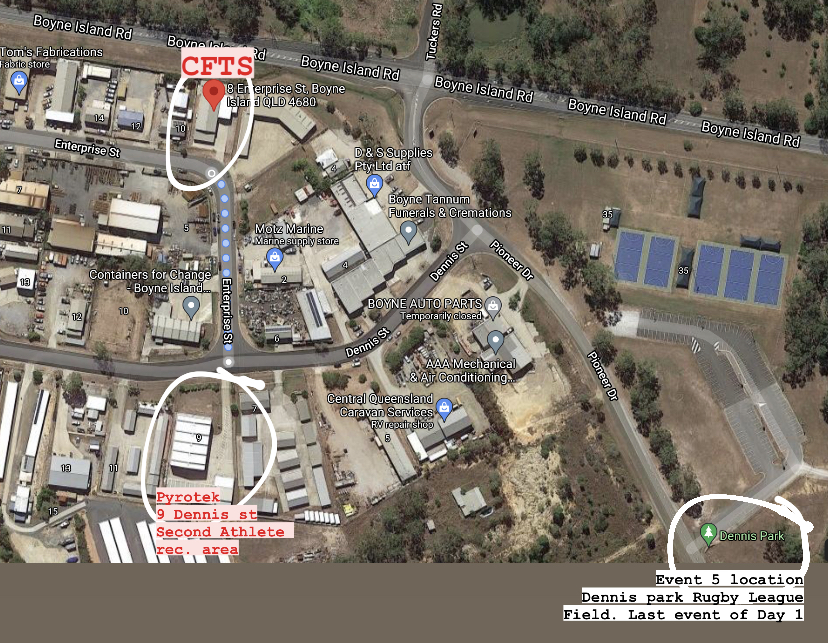 Event Locations
Saturday 7th Aug
Events 1 to 3 - CFTS, 8 Enterprise Street, Boyne Island
Event 4 - Dennis Park Rugby League Field, Pioneer Dve; we will walk over following Event 3 and finish our day here.
Sunday 8th Aug
Event 5 - Main Rotunda, Millenium Esplanade, Tannum Sands
Event 6 - Peters Park (Top of the Esplanade Stairs)
Event 7 - Tannum Beach, Millenium Esplanade
Event 8 - CFTS, 8 Enterprise Street, Boyne Island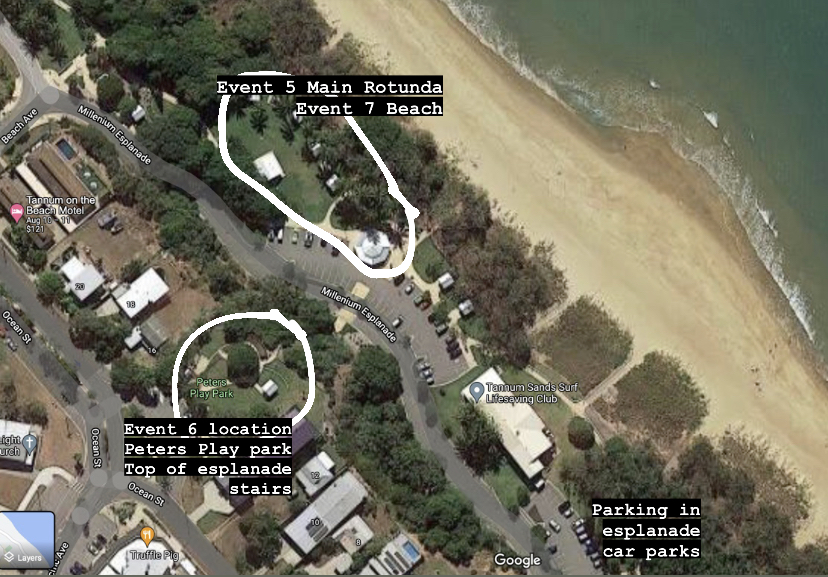 What shoud we bring with us?
Day 1 at CFTS and Pyrotek, there will be plenty of space to set up camp for the weekend. We'll lock the site gates overnight while we spend Sunday morning at the beach before returning back Sunday afternoon.
- Tent/Gazebo
- Chairs
- Water/food/snacks
- Workout gear i.e. grips, shoes, belts, matching headbands etc
- Hat/Sunnies/Sunscreen
- Beach umbrella 
Who are all the amazing sponsors we should look up and thank directly?
Gladstone Regional Council
Boyne Island Motel & Villas
My Macro Chef
Jordan Lofts Roofing 
Lisa Frost Photography
Sportspower Gladstone
ASN Gladstone
Budgy Smuggler
True Protein
Revel Brewing Co
Auckland House
Fortify Gear
Fit-Aid
Gorilla Health
The Junction Cafe
R U OK Day