Event description
Grab two of your besties and jump in the April 24th 2021 Festivus Games Teams of 3 Hybrid event!
Teams are either three males or three females. 
Divisions are Novice, Intermediate & Masters 45+. No pure Rx and no fire breathers allowed.
This VIRTUAL event is for athletes who cannot find a host within three driving hours of them or whose on-site host had to back out due to Covid or other reasons.
Anyone choosing this VIRTUAL event will complete the WODs between March 27th and April 17th with scores and video-proof links submitted within those dates as well. All VIRTUAL event scores must be accompanied by video proof as we describe here -> Off-site Guidelines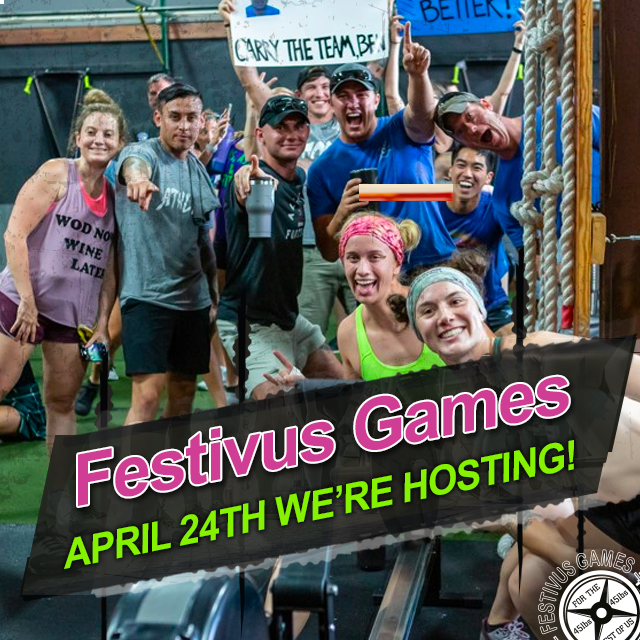 More Hybrid Rules & Info (Tap Here)
The WODs are Out! (Tap Here)
Since 2011
Festivus Games, since 2011, is a competition for "the rest of us" - for the 95% of athletes who aren't pure-Rx firebreathers. No athlete, whether six months in or brand new, will need to scale any of the events. The competition is about capacity more than a high degree of skill. Everyone can row…just how fast? Everyone can deadlift..just how much?
Since the first competition with about 70 athletes Festivus Games has grown to over 17,000 athletes a year!
When you compete in the Festivus Games you can expect to be challenged but you can also expect to have a lot of fun. When you see the WODs you'll finally be able to say "I can do that!" With your boxmates, you will sweat, laugh, cheer and compete.
Divisions
Our Novice division is perfect if you're newer to functional fitness, if you've never competed before, or regardless of experience, you scale most daily WODs and sometimes scale the scaled. 
Our Intermediate division will provide a worthy challenge for athletes who handle scaled workouts pretty easily, and who often Rx SOME, but not ALL, movements. The loads are heavier than Novice and the movements may require more skill.  
Our Masters 45+ division allows you to combine with anyone as long as your ages add up to 135+ AND the minimum age for anyone on the team is at least 40 by 12/31/2021.
Although we can't predict what the world Covid status will be in April 2021 we can guarantee there will be feats of strength for the rest of us! Hope you can join us.