BATTLE OF BENTON 2021 PAIRS COMP
Event description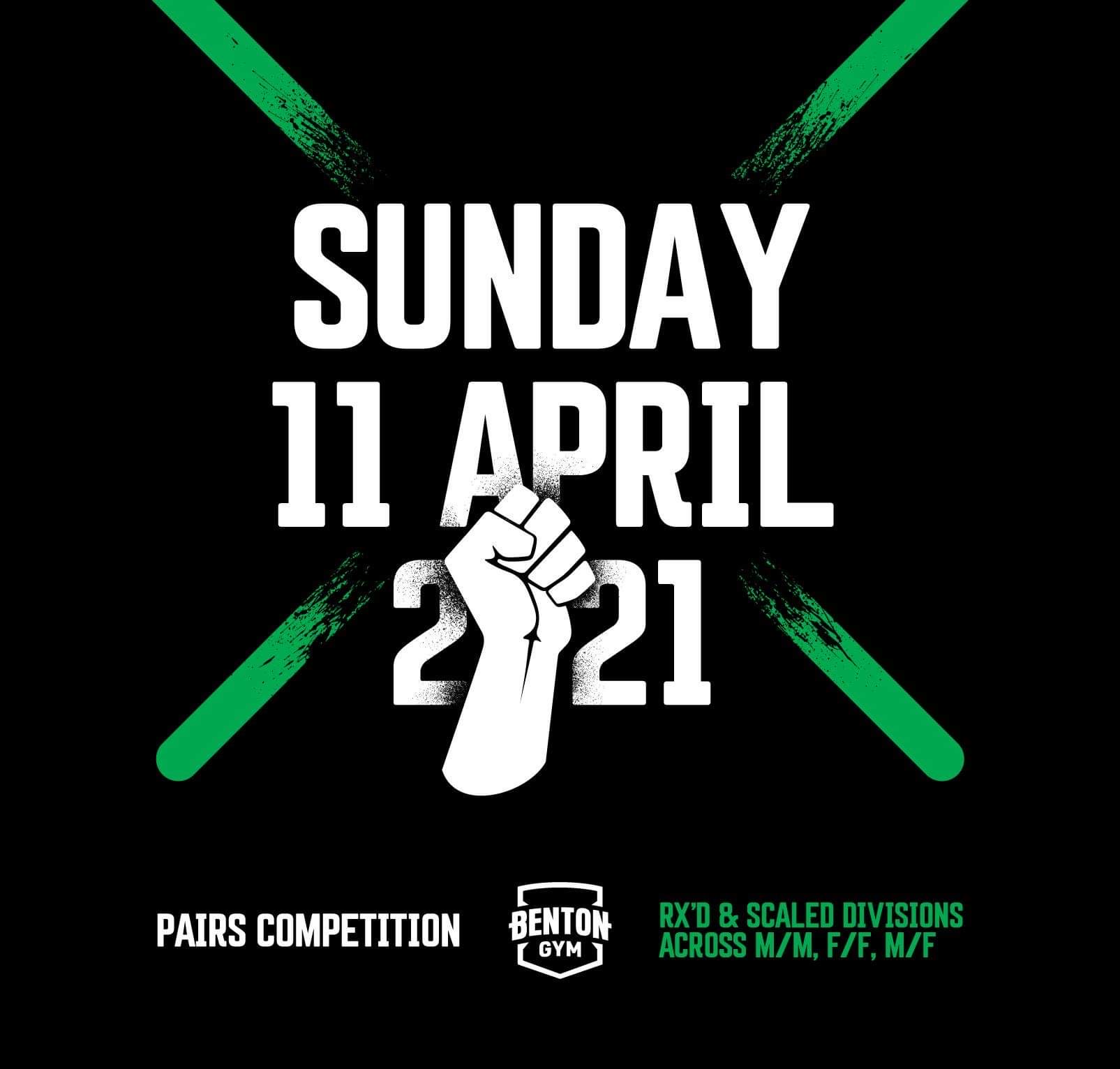 THE BATTLE IS BACK FOR 2021 !! 
It's time to sign up you & your favourite training partner & get ready to battle it out in our fun, challenging & inclusive PAIRS FITNESS COMP.
Both RX & SCALED DIVISIONS to choose from depending on your skill level & experience.
All three CATEGORIES M/M, F/F & M/F to ensure you get your favourite training partner alongside you for the day.
Athletes will be tested across 5 SCORED EVENTS to ensure a fair test of fitness. Competing alongside one another in a 10 lane format just like the big stage events. 
Inside & outside arena's which allows for an action packed day, lots of variety in programming & quick turn arounds between workouts.
Each workout is designed & tested by CrossFit Games Athletes Ben & Ricky Garard who pride themselves on leaving competitors with a memorable experience. We've also gone to the extra effort of testing each event & time caps with our everyday Benton Gym members to make sure it's achievable for all fitness levels. 
There will be a live DJ adding to the electric atmosphere &  viewing areas for any family & friends who want to come & watch you throw down.
We'll be rewarding CASH PRIZES to the WINNERS of each RX category & awesome PRIZE PACKS for WINNERS of each SC category. 
\\ REGO'S ARE NOW LIVE //
We always aim for quality over quantity, so there is a maximum of 20 teams per division. Once it's full, that's all we have space for. So get in quick & claim your spot to one of the best comps on the local circuit. 
***THIS EVENT SOLD OUT IN A MONTH LAST YEAR, SO THE TIME IS NOW IF YOU WANT TO BE PART OF THE ACTION***
Look forward to seeing you & your partner BATTLE IT OUT on Sunday 11 April, 2021. 
*REFUNDS will be avaliable strictly due to COVID-19 due to the Event not being able to run. All participants will receive a full refund ASAP if this has to be the case. NOTE: Refunds will not be given for any other reason I.e injured, medical, can't come etc. ONLY if due to the competition closure due to government guidelines. 
Any questions or concerns about the event please contact the event organisers ben@bentongym.com or lizzy@bentongym.com