Event description
https://www.melanincrossfitters.com/competitions/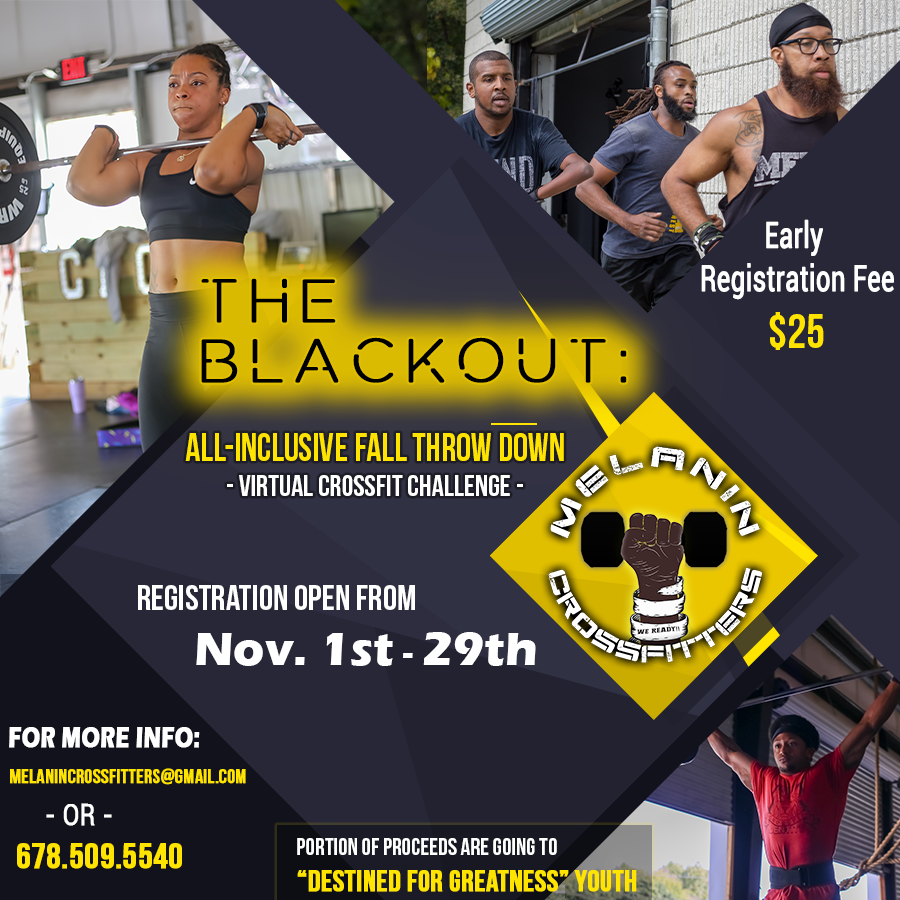 Hello all and welcome
Melanin CrossFitters presents:
The BLACKOUT; An All Inclusive Fall Throwdown!
Looking to test your fitness on an individual level?  We are very excited to have you join us for some fall fitness fun going towards a great cause, a portion of the proceeds will go towards Destined for Greatness Youth Outreach Center. 
Check out their website to see the great work they are doing for the community 
Destined for greatness youth

 Registration will be open Saturday October 31st till November 29th scores are due the same day by 8pm 
Workouts will be released Friday, November 6th! 
We can't wait to throwdown with you!
There will be four divisions male and female of:
Advance, Intermediate, Beginner, and Adaptive 
Prizes will be given to the top 3 athletes in each category.  We advise all athletes please have video verification ready for your workouts as proof of score.


First place for the advanced male and female category will win a Cali shorty Barbell and full set of bumper plates. (Only eligible for shipping in United States)
Video submissions will be required to be eligible for top 3 prizes in all categories. 



Video submissions must show the athlete at all times, show the movement standards, show the weights used, and a timer in the background. our suggestion is WODProof or wetime for apps. 

Advance athletes should be able to clean and jerk 115/75 deadlift 225/155 thruster 95/65 perform double unders push ups 
Intermediate athletes should be able to clean and jerk 75/55 deadlift 155/105 thruster 65/45 perform single unders and hand release push ups 
Beginner athletes should be able to clean and jerk 55/35 deadlift 105/85 thruster 55/35 perform single unders and hand release push ups 
Adaptive athletes ! If you are interested in throwing down message us at competitionseventsmcf@gmail.com and we will take care of you ! 
Register now price increase after November 14th!