Event description
The Danish Functional Fitness Championship (DFFC) 2020 is simultaneously a celebration of community and fitness in the Community Division, and a grueling test of fitness to find the Fittest in Denmark.
 
The DFFC is brought to you by GoWod and organized by Funktionel Fitness Danmark (FFD), the national sports federation for CrossFit and functional fitness in Denmark.
 
Format, Divisions, Prices, Prizes & Dates
 
Overall

The DFFC is an online competition, taking place over three weeks, starting the 30th of October. Each week consists of a window of opportunity, from the announcement of the workout(s) Friday, till deadline for score submissions on Sunday.
 
Athletes in both divisions are expected to have access to the equipment used in the CrossFit Games Open. In addition, athletes in the Elite Division are expected to have access to the Concept 2 Ski Erg and the Concept 2 Bike Erg. Note that we expect to announce a number of DFFC partner boxes and training centres where Elite Athletes will be able to get access to the abovementioned ergs which they might lack access to, in order for them to be able to complete all workouts.
 
The Elite Division

In the Female and Male Elite Divisions, we will find the Fittest Woman and Fittest Man in Denmark through a test of fitness consisting of 6 grueling workouts - all programmed by 4 times Games-athlete Tim Paulson.
 
Athletes signing up for the Elite Division, should be able to perform all movements seen in the CrossFit Games Open without difficulty and be able to snatch 90kg (males) and 65kg (females) or close to.
 
Prizes: 20.000 DKK to 1st place in both subdivisions (Elite Male/Elite Female). 88.000 DKK total prize pool. Full information on placement prizes will be released on the evening of the 22th of October.
 
Price: 100 DKK for each individual athlete (+ Competition Corner fee)
 
The Community Division
The Community Division is brought to you by our Community Partner Rx'd Events and programmed by our Programing Partner The Progrm.

In the Community Division, pairs of males (m/m) or pairs of females (f/f) compete in two subdivisions in order to prove the fitness of their pair, their box and the community as a whole.  Each weekend they will complete at least one scored event together.
 
Any athlete signing up for the Community Division, should expect to be able to participate in all workouts being announced. Workout design will also take athletes with higher skill levels into account. This allows athletes to prove their fitness in the Community Division, regardless of skill level,
 
Prizes: Some placement prizes, but mostly lottery based prizes for boxes signing members up and athletes alike. The total prize pool is around 200.000 DKK, not awarded in cash. More details will be released in the week leading up to competition start.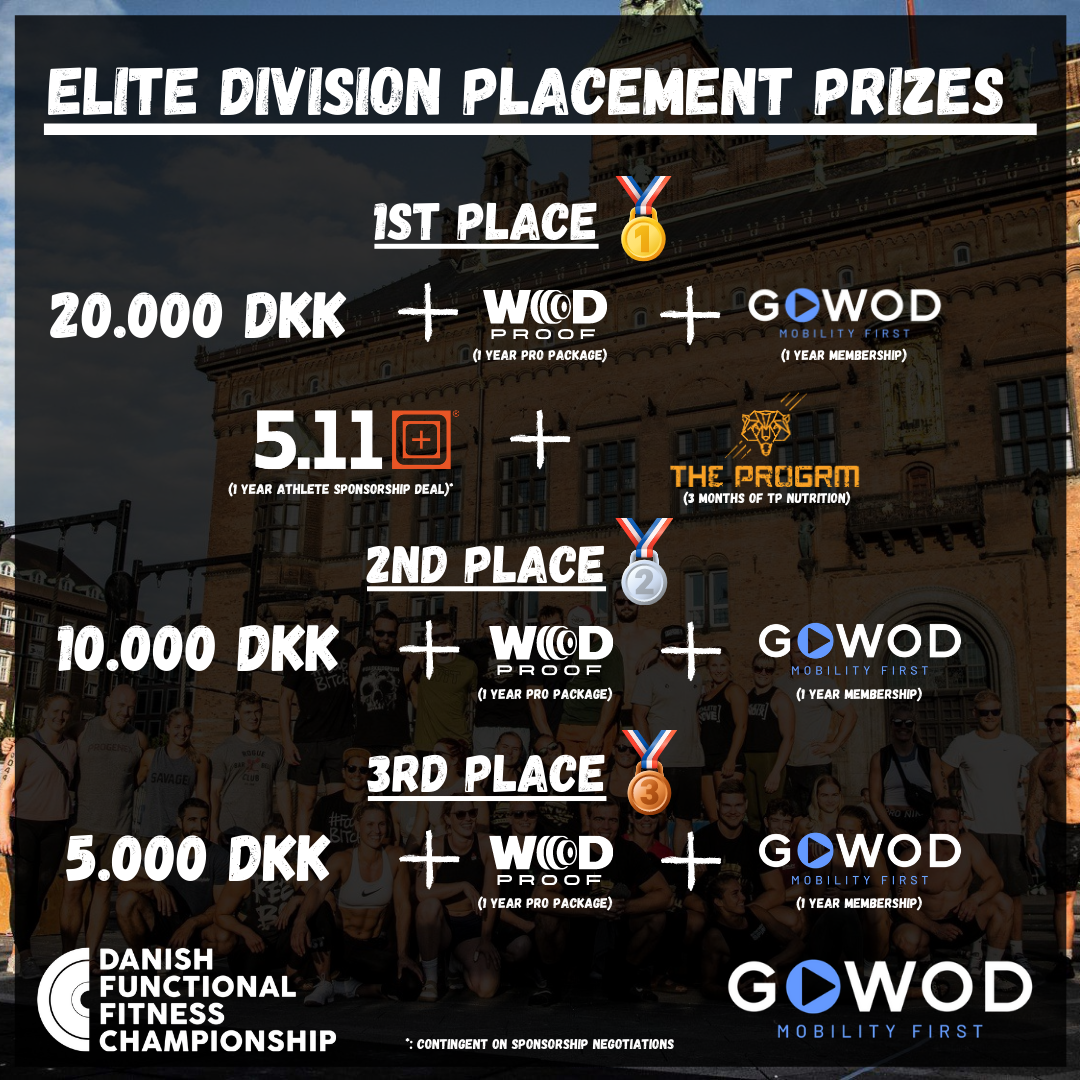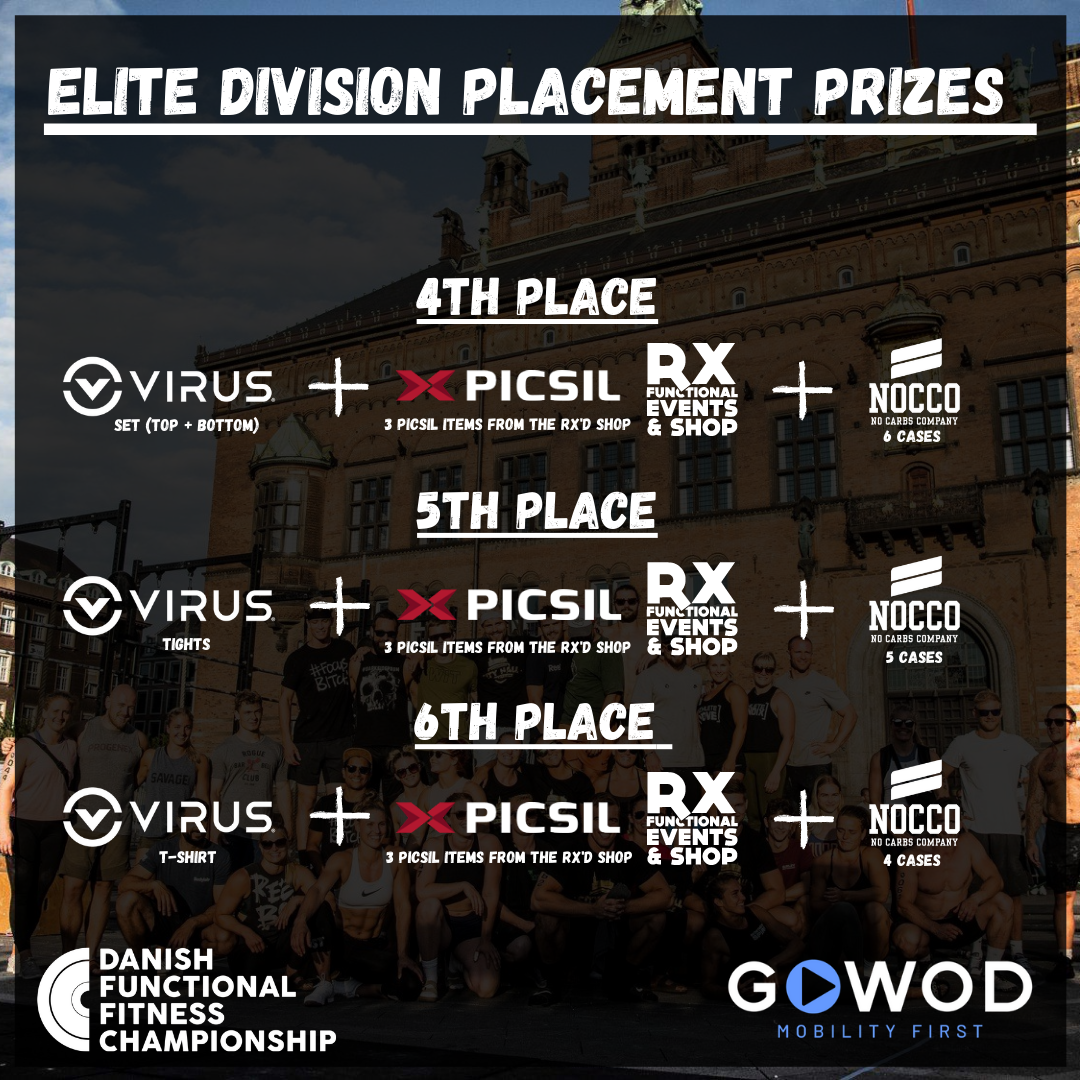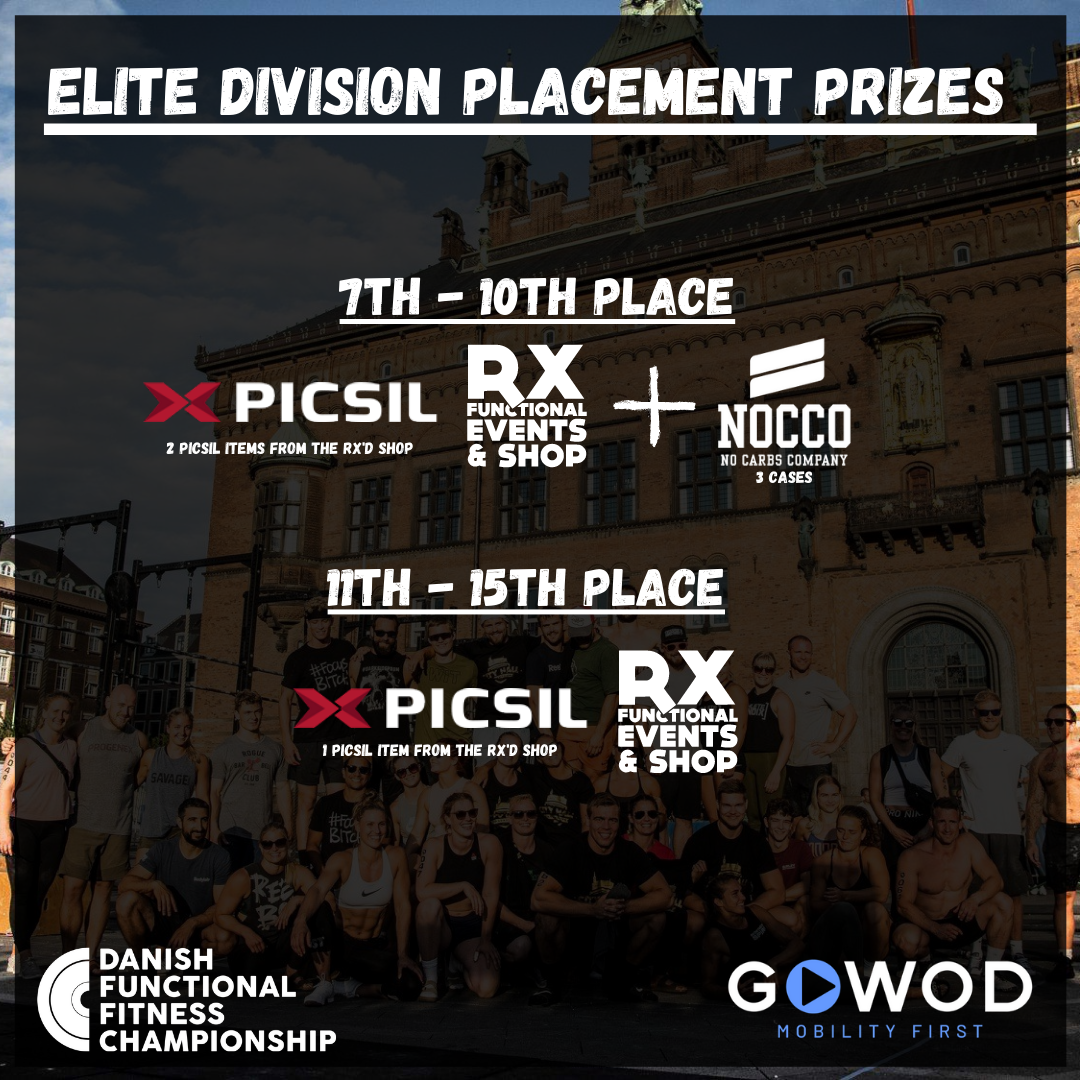 Price: 150 DKK for each pair of athletes (+ Competition Corner fee)
 
Dates and Deadline 
Workout descriptions and standards will be released at the following times: 
October 29th 12:00 (GMT +1) for Community Division Event 1 
October 30th 12:00 (GMT+1) for Elite Division Event 1 
October 30th 19:10 (GMT+1) for Elite Division Event 2 
October 5th 12:00 (GMT +1) for Community Division Event 2 
October 6th 12:00 (GMT+1) for Elite Division Event 3 
October 6th 19:10 (GMT+1) for Elite Division Event 4 
October 12th 12:00 (GMT +1) for Community Division Event 3 
October 13th 12:00 (GMT+1) for Elite Division Event 5 
October 13th 19:10 (GMT+1) for Elite Division Event 6
Athletes and community teams must submit their scores by the announced  deadlines, via the Competition Corner platform. The deadlines are as follows: 
November 1st 18:00 (GMT+1) for Elite Event 1 and 2 
November 1st 23:59 (GMT+1) for Community Division Event 1 
November 8th 18:00 (GMT+1) for Elite Event 3 and 4 
November 8th 23:59 (GMT+1) for Community Division Event 2 
November 15th 18:00 (GMT+1) for Elite Event 5 and 6 
November 15th 23:59 (GMT+1) for Community Division Event 3

Rulebook
Found here.
 
----
 
Any questions, concerns or considerations should be directed to: mail@funktionelfitnessdanmark.dk