Event description
Welcome to The "ProAM Team Championships 2020"
A 7 week online competition where you can compete with CrossFit Games athletes as your team captains & fellow functional athletes as your team mates.
You register & compete as an individual and we will allocate you a team.
Each week we release a new workout which you complete on your own. Your score then goes towards your teams overall score. 
There are 6 Teams with 12 Team Captains. These are:

Team Roster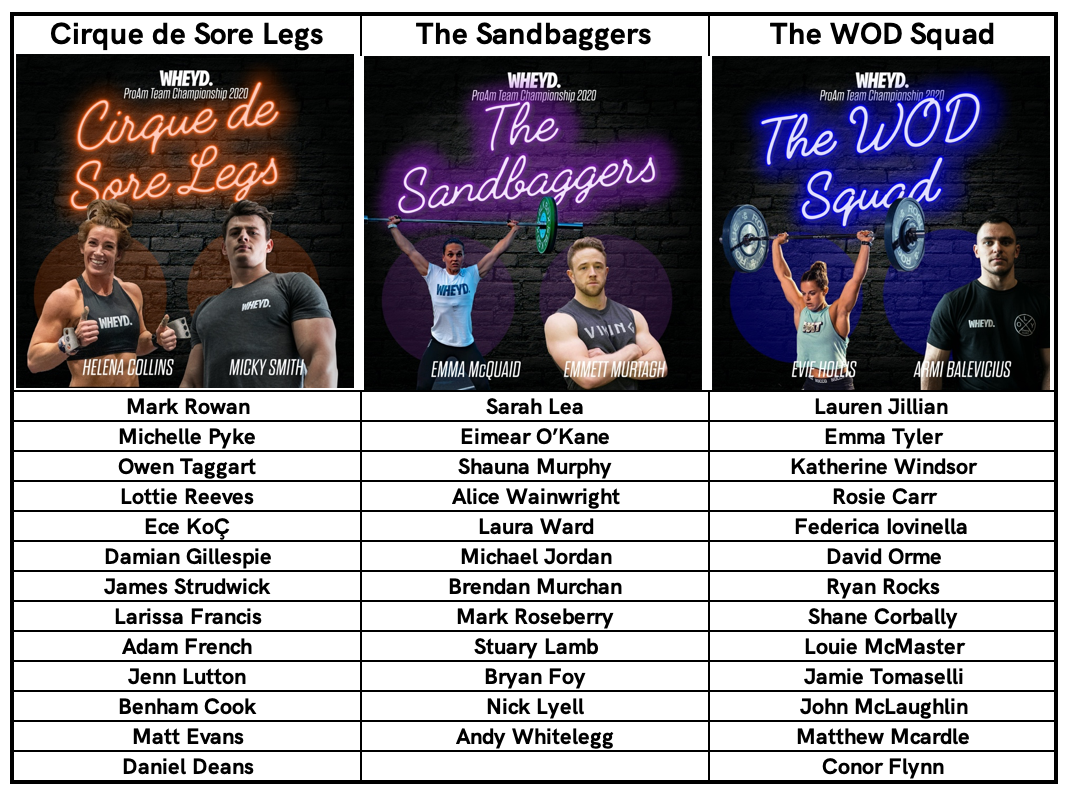 Competition Format
The competiton will look as follows:
Week 1 (Announced 12th October, 8am.  Deadline 18th October, 11.59pm) - Workout 1 is called "WHEYD WOD".
Everyone will be required to compete the 1st workout as individuals. (There will be prizes for Top 3 Male & Females in this event)
We will then allocate each athlete that has completed Workout 1 to one of the 6 Teams. You will then be part of a team and have 2 team captains!
Week 2-7 (19th October - 30th November 2020)
Over the course of 6 weeks a new workout will be released every Monday morning, submission due the following Friday.
e.g. Week 2:
Workout released Monday 19th October at 8am.
Workout submission deadline - Sunday 25th October at 11.59pm.
Each workout will be completed as an individual but your score will go towards your teams overall points!
The nice little twist here is that each week a different set of team captains will get to choose the workout. 
Each team captain will compete and their score counts for x 10.
PRIZES
Each member of the winning team will receive a custom ProAM Championships 2020 Winner velco Patch AND an exclusive lifetime discount on WHEYD Products (includes WHEYD Powder, our new Vegan Protein, Liquid Chalk + loads more)
FILMING 

Filming isn't mandatory as we trust that everyone will compete fairly however we highly recommend filming your workouts. 
In the video, you, the athlete, has to state his/her name.
A clearly visible timer has to be in frame. We recommend using WODProof (search relevant app stores - it's free to use!) for not having any issues with the timer. 
WORKOUT STANDARDS

Each workout will have a video guide and required standards. Although all movements are very simple, they all require a standard. On review, we will check to ensure standards are met. On each workout submission, see "Standards" section and also the penalties for missing these.
ENTRY FEE

We have charged the minimum available to run this online competition and to cover all fees. The fee is £2.99 + £1.91 admin fee (set up Competition Corner). Less than a cup of coffee (with an extra shot that is...)! 
Any additional proceeds from this event will be donated to our 2 chosen charities close to our hearts - Cure Leukaemia & Movember. 
REFUND POLICY
Unfortunately, we cannot offer a refund policy once payment has been taken.
Q&A
"Will this competiton be too hard for me?"
All workouts are designed to be all-emcompassing and will exclude movemments such as handstand walks, muscle-ups, rope climbs, any rig work.
This is not specifically a "home workout" competition so we will be including workouts that involve barbells & skipping ropes - ideally to be done in a gym.
"What equipment will I need?"
This is designed to be used in a gym, so:
Barbells & Weight plates
Kettlebells
Dumbells 
We will not be using the rig for any workouts due to COVID restrictions.