Event description
Welcome to the first WODProof Bike Erg Challenge.
Individual & Teams Bike Erg online challenge.
You CAN register and compete with ANY concept2 BikeErg®.
3 week challenge, 5 Concept2 BikeErg® workouts total.
Prizes:
3rd, 2nd, 1st places - Individuals and teams: 
Win a Lifetime PRO Package subscription & a Coach package to build a team with up to 20 members.
If you have a PM5 monitor, you can use WODProof's new revolutionary feature and get 30 day free trial by clicking here.
MORE INFO:
By registering for the WPRC, you can compete as an individual AND join up with a friend to compete together as a team (Teams of 2, MM or FF), based on your individual scores.
Our mission is to allow you to enjoy the excitement of competing again, by connecting you with BikeErg® athletes around the world. WODProof provides a virtual platform that offers the closest possible feel to live, on-site competition. This app enables you to record your performance, complete with real-time monitoring, from your C2 BikeErg®. WODProof's new revolutionary feature allows you to livestream the calories, meters and pace from your C2 PM5 monitor to the video in real time (wireless, no cables are needed).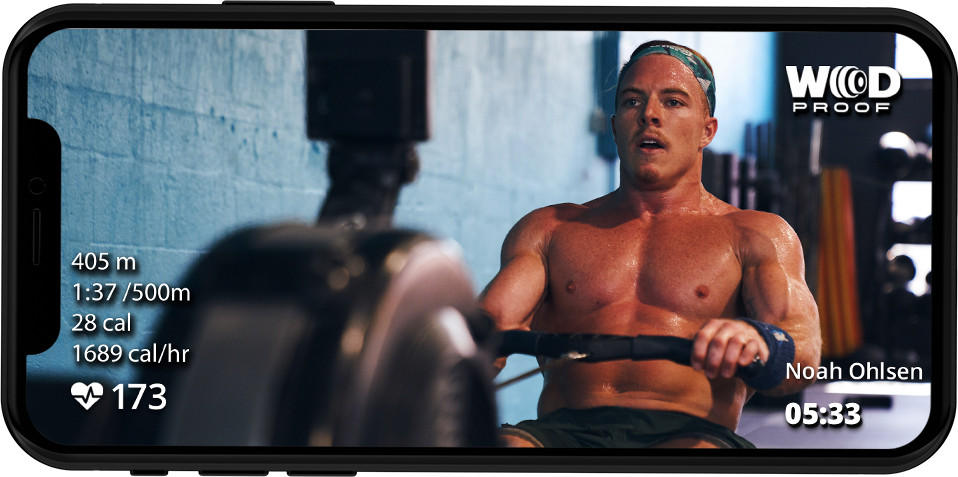 The worldwide WODProof community is welcome to start using this new feature now, and to begin a 30-day free trial. This new feature is supported by any PM5 monitor (Rower/Ski Erg/Bike Erg).
Click here for 30-day free trial
PM5 firmware update link  
Workout release dates (All times Eastern Daylight Time):
Week 1, Workouts 1 & 2:
Friday 12:00 PM EST, 06/26/2020, due Friday 12:00 PM, 07/03/2020.
Week 2, Workouts 3 & 4:
Friday 12:00 PM EST, 07/03/2020, due Friday 12:00 PM, 07/10/2020.
Week 3, Workout 5:
Friday 12:00 PM EST, 07/10/2020, due Friday 12:00 PM, 07/17/2020.
WODProof Bike Erg Challenge Rulebook:
The WPBC is a worldwide virtual Bike Erg community event debuting a new feature provided by the WODProof app. This rulebook governs all aspects of registration and competition.
Each week's workout(s) will be released each Friday at 12:00 PM Eastern Daylight Time (EST) during the challenge, on the WPBC website. Athletes will have until the following Friday at 12:00 PM (EST) to complete and submit their workouts. 
The workouts will be released on the following Fridays:
* Week 1, Workouts 1 & 2:
Friday 12:00 PM EST, 06/12/2020, due Friday 12:00 PM, 06/19/2020.
* Week 2, Workouts 3 & 4:
Friday 12:00 PM EST, 06/19/2020, due Friday 12:00 PM, 06/26/2020.

* Week 3, Workout 5:
Friday 12:00 PM EST, 06/19/2020, due Friday 12:00 PM, 07/03/2020.
Athletes will submit their scores in each workout by its corresponding due date on the WPBC page on Competition Corner. Athletes are permitted to submit multiple attempts as long as the attempts are submitted before the workout's submission date.
Each submission must contain a WODProof timestamp.
Record your workout easily with a Timestamp watch video
To make sure we know that your specific C2 device is connected with your WODProof app, after the workout ends, show that the stats on the BikeErg® screen are the same stats as displayed on WODProof app. as in this video.
If you don't use the Concept2 feature, make sure that you record your performance when the monitor is visible during the entire workout as in this video.
Submit scores according to each workout's score submission guidelines.
Registration and certification:
All entry fees are non-refundable once entered.
By signing up for the WPBC, athletes certify that they're in compliance with WPRC's Assumption of Risk and Release of Liability Agreement.
I acknowledge that I am participating in the activity outlined by this virtual event by my own free will and at my own personal risk. I will not participate in this virtual event unless I am medically able and properly trained. By my signature, I certify that I am medically able to perform this event, am in good health, and am properly trained. 
I assume all risk of personal injury, sickness, or death, and damage to or loss of my belongings and property, and any and all other delay, inconvenience, damage, loss or other expenses I may suffer as a result of or in connection with the WPRC event. I agree to be fully responsible for my actions. I assume responsibility for my safety and that of others, including injuries, property damage and harm, to the fullest extent possible and regardless of the acts or omissions of others. 
Athlete Divisions:
Video evidence may be requested from top athletes.
Athletes can form teams. Teams can form teams of two. The team format will be of the same gender. 
This competition is scored individually, according to gender. 
Concept2  Indoor BikeErg® must be used according to the WODPROOF app's instructions. Competitors may use the damper setting of their choice.
Leaderboard and Scoring Validation:
Once the score submission period has closed, no workout scores may be entered. There will be no exceptions.
Individual athletes will be ranked in each event. Scoring will be based on an athlete's relative rank, that is their rank when compared to the performance of other athletes.
Ties will not be broken for single event results. More than one athlete can share an event ranking, and each will earn the original point value. The athlete with the top score across multiple events in a category wins that category.
These points will be used to rank the athletes and teams on the leaderboard. Ties on the overall leaderboard will be broken by awarding the best position to the athlete who has the highest result in any single event. If athletes remain tied after this first tiebreaker, the process continues to their next highest single result, and so forth.
The competition will only count full second results. Tenth of a second results will not count for the sake of the competition. For example, a time of 1:29.5 - 1:29.9 will be listed on the leaderboard as 1:30.
a time of 1:29.0 - 1:29.4 will be listed on the leaderboard as 1:29.