Event description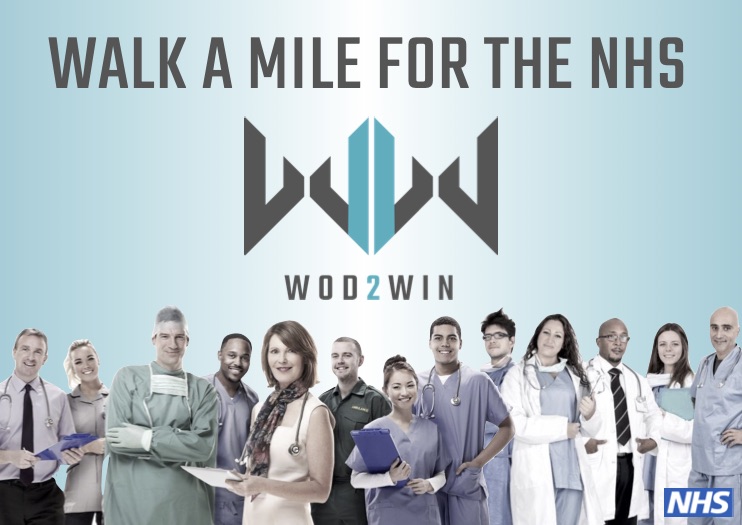 WOD2WIN is proud to support NHS Charities Together (Registered Charity number 1186569) National COVID-19 URGENT APPEAL by hosting an online fundraiser to help keep the nation active by asking everyone capable, to walk a mile.
Entry costs £3.00 and ALL proceeds go directly to the COVID-19 URGENT APPEAL.
To take part, all you need to do it register for the fundraiser, pay your £3.00 entry fee, walk a mile and time how long it takes you, sign in and upload your time and you will automatically be entered into a random prize drawer to win goodies generously donated to us from organisations across the world to support our fundraising effort.
If you would rather not appear on the leaderboard, you can simply click the DONATE button instead of REGISTER.  The Donate tab can also be used to donate additional funds to the charity. 
If you choose the register, you can upload a screenshot of your mile stats via MapMyWalk, Strava etc but please note, this is NOT a requirement.
PLEASE REMEMBER TO POST THAT YOU 'WALKED A MILE FOR THE NHS' ON YOUR SOCIAL MEDIA ACCOUNTS AND TAG AND NOMINATE 5 OTHERS TO TAKE PART, ATTACHING THE WOD2WIN.COM/NHS LINK.
You can walk the mile as many time as you like up until Friday 26th June 2020 when you will need to record or update your final time. There is a LIVE leaderboard, so you can keep track of your progress and is purely for fun.
This is participation, not a performance fundraising event and THERE IS NO PRIZE FOR THE FASTEST TIME. Spot prizes will be awarded via a randomly selected prize draw for ALL entrants, regardless of your place on the leaderboard and wether you registered or donated. 
Enjoy walking your mile and STAY SAFE!
Partners: