Event description
The WE TRAIN Games 2.0
-
-
SATURDAY 9TH OCTOBER 2021 - 8:30am Teams registration and briefing
-
-
The inaugural games is back, this time bigger, better and in MIXED SEX PAIRS format! The WeTRAIN Games 2.0 #WTG2
-
-
This is an opportunity particularly for those of you that #traintochange at WeTrain, but NOW OPEN TO ALL, to show yourselves a better you. An opportunity to culminate your hard work and efforts upon bettering yourselves. An opportunity to share your efforts with those that you train with. This date is not an event you win or lose, but an opportunity to solidify becoming a better you.
-
-
Mixed sex pairs (Male/Female) will take to the games in three separately scored events, with the aim of qualifying for the fourth and final event. Though this is a team based event, individual efforts will also be accounted for (and in some events scored against) so as to offer an insight into your own performance and personal feedback. There will be a seperate MALE & FEMALE performance league that will accompany the PAIRS peformance league. 
-
-
Each of the events will require every physical and mental quality in various forms and will be broken down into Heats, for which more detail will be released upon each as we draw closer to the games.
-
-
We will make you run long distance, short distance, make you run fast and at times with load. We will make you lift stuff, push stuff, carry stuff, throw stuff and work with your teammate to overcome stuff. We'll make you spend yourselves at the gym as well as upon unfamiliar terrain. There will be no technical lifts, only lifts/movements that require perseverance, consideration, maximum effort and at times synchronised execution. But most of all, we will ask you to have fun, take the opportunity to learn what you can do and celebrate becoming a better you.
-
-
REGISTRATION NOW OPEN
TEAM REGISTRATION £40 + processing fee 
WeTRAIN Members contact for registration discount of 25% :D
REFUND POLICY:
In the event that WeTRAIN should need to cancel the event, full refunds will be given. 
In the event that an individual or team should cancel, no refunds will be given. You can however substitute an individual or team. Please contact WeTRAIN direct in this matter.
Location/Parking:
WeTRAIN  - Unit 2 Irradion House, Southdown Industrial park,
Southdown road,
Harpenden,
AL51DZ
If you type in 'WeTRAIN Group Fitness' into apple/google maps this should direct you to our door!
Parking:
Please see the attached image of Southdown, Harpenden below. The lines marked in RED indicate where it is possible to park.
Co-op Car Park - The circular red line to the bottom right of the map is the most recommended area for parking any time of day. 
Entry to this car park is signed upon the Co-op exit on Southdown roundabout. 
Marlborough Park - the first red line indicated as you enter Southdown Industrial Park can be parked anytime, but tends to be busy during the day with the 9-5 workers on the estate. This is a good place to park should you be attending the gym of an evening (5pm onwards) or early morning (before 8:30am). It is marked with double yellow lines, BUT I promise you these aren't policed. 
WeTRAIN Group Fitness - the gym itself has limited parking outfront of the building, and also to the side of the attached building, indicated by small red lines. However, again if you are attending early morning or late evening as described above you can park anywhere around the building.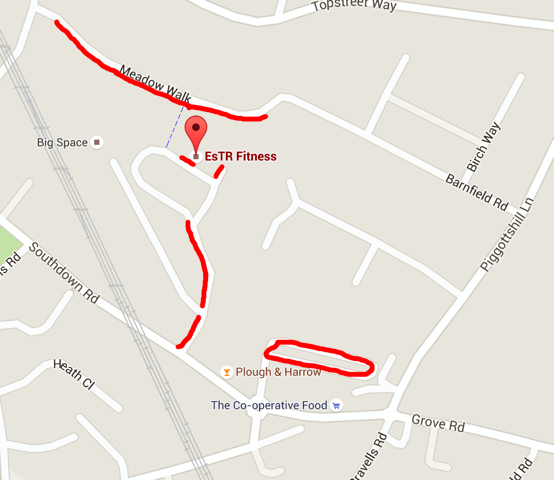 Lastly, any questions/queries can also be directed to WeTRAIN at
sal@we-train-you.com
Thankyou, hope to see you on the competition floor!
Matt Sallis