Event description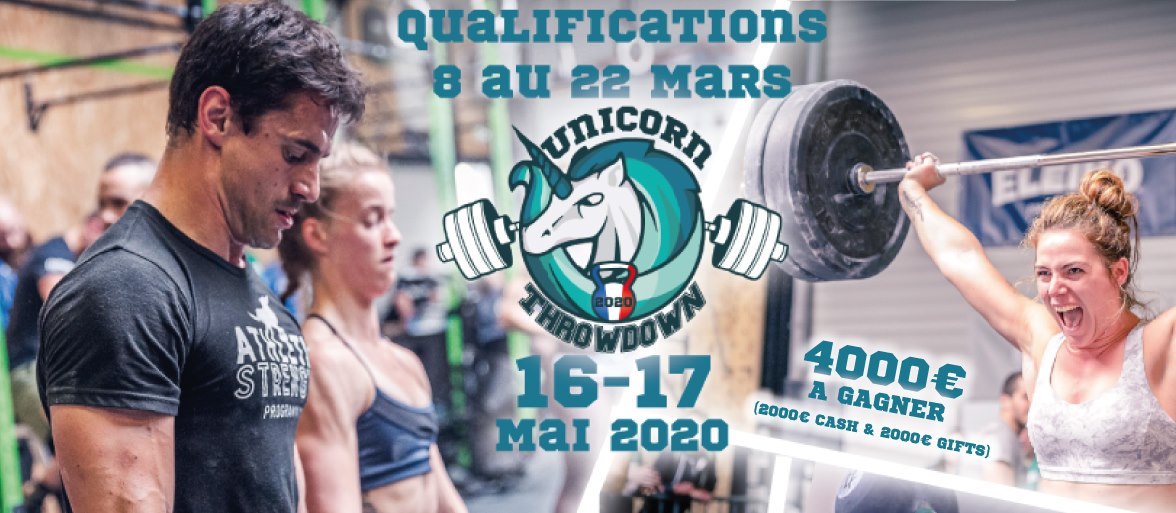 FR :
Bienvenue à la 4e édition des UNICORN THROWDOWN !
L'année dernière, 130 Athlètes se sont affrontés lors d'un Weekend de Finale à L'Arene CrossFit Amiens.
Cette année, nous retiendrons encore les 130 meilleurs Athlètes à l'issue des qualifications mais nous avons décidés de créer une nouvelle catégorie expliquée plus bas…
La finale aura lieu les 16 et 17 Mai 2020 à Amiens, vous pourrez tester votre Fitness dans son intégralité sur des WOD intérieurs, mais également extérieurs dans des lieux surprises !
Toutes les catégories participeront aux Deux jours de finales.
Inscriptions : Les inscriptions débuteront le 1er Janvier 2020 à 19h
Vous aurez possibilité de bénéficier du tarif Early Bird jusqu'au 19 Janvier 2020 à 23h.
La clôture des inscriptions est fixée au 15 Mars 2020 à 19h, lors de la clôture du WOD 1.
Prix Early Bird: 20€ HT Indiv / 40€ HT Team
Prix Normal: 23€ HT indiv / 46€ HT Team
Catégories et nombre de qualifiés :
Teens Garçons (- 18 ans): 5
Master H (35-39 ans): 10
Master H (+40) : 5  (NEWS !)
Master F(+35 ans): 5
Adaptive: 5
Team HF : 15
Rx / Inter H: 35 (1-25 en Rx / 26-35 en Inter)
Rx / Inter F: 30 (1-20 en Rx / 21-30 en Inter)
Ces chiffres pourront évoluer suivant le niveau des qualifications vidéos (par exemple chez les filles, cela pourrait devenir 15 Rx / 15 Inter, afin que tout le monde puisse s'exprimer au mieux lors de la finale sans frustration).
Qualifications: Les qualifications auront lieu sur 2 semaines avec un WOD par semaine.
08/03/2020 : Annonce du Wod 1 à 19h
15/03/2020 : Soumettre les scores du Wod 1 avant 19h
15/03/2020 : Annonce du Wod 2 à 20h
22/03/2020 : Soumettre les scores du Wod 2 avant 19h
Informations :
- Vous devrez avoir l'âge requis le 16 Mai 2020 pour les divisions Teen et Master (Toutefois, les Teens et Master peuvent participer en Indiv Rx/Inter ou Team)
- Lors des qualifications, veillez à bien respecter les standards de chaque catégorie.
- Vous devrez fournir un lien vidéo accompagnant vos scores pour les vérifier.
- Au terme des 2 semaines, nous annoncerons les qualifiés (Le prix de la finale sera de 30€ HT par personne)
- Vous aurez donc 2 WOD pour faire vos preuves et tenter de vous qualifier pour la finale organisée à Amiens les 16 et 17 Mai 2020.

- Un athlète peut s'inscrire en Indiv et en Team pour tenter sa qualification, les WOD seront identiques pour les deux catégories, pas besoin d'appartenir à la même box ni d'être ensemble pour faire les WOD.
- Si un athlète est qualifié en INDIV, et également en TEAM, il devra faire un choix, la finale ayant lieu le même weekend.
-Si vous avez des Questions n'hesitez pas à nous contacter à l'adresse mail suivante :
unicornthrowdown@gmail.com
On se retrouve chez nous !
Bon courage à tous,
Le Staff du Unicorn Throwdown
_______________________________________________
Standards recommandé des Qualifications :
Hommes (Rx Inter / Master H / Team):
Clean and Jerk: 80 kg
Snatch: 60 kg
Chest To Bar
Toes To Bar
HSPU
Femmes (Rx Inter / Team), Teens Boys:
Clean and Jerk: 55 kg
Pull ups
Toes To Bar
Master F, Teens Girls:
Clean and Jerk 40 kg
1 Pull Ups
Knee raises
Push ups
_______________________________________________
EN :
Welcome to the 4th edition of the Unicorn Throwdown!
Last year, 120 athletes competed on a one-day competition with WODs both inside and outside at L'Arene CrossFit Amiens.
This year, we're kicking things up a notch with video qualifications in order to select 130 athletes divided in 6 categories.
These athletes will compete during the 2 day Final, which will be held this coming May 16 and 17 in Amiens.
Categories and number of qualified:
Teen boys (15 to 17 years old): 5
Teen girls (15 to 17 years old): 5
Master women (35 years old and above): 5
Master men +35 (35-39 years old): 10
Master men+40 (40 years old and above): 5 (New Division !)
Rx men: 25
Rx women: 20
Inter Men: 10
Inter women: 10
The required age must be met by May 16 2020.
Qualifications: the qualifications will take place over two weeks with a WOD per week.
03/08/2020: WOD1 announced at 7pm
03/15/2020: scores will have to be submitted by 7pm
03/15/2020: WOD2 announced at 8pm
03/22/2020: scores will have to be submitted by 7pm
- please make sure that you comply with the Standards of each category during the qualifications.
- link a video to your scores so they may be verified.
- Following the two weeks of qualifications, we will announce the qualified.
- you will have two WODs to try and qualify for the Final in Amiens on May 16 and 17 2020.
We hope to see you soon amongst us!
Good luck to all! 
The Unicorn Throwdown Staff.