Event description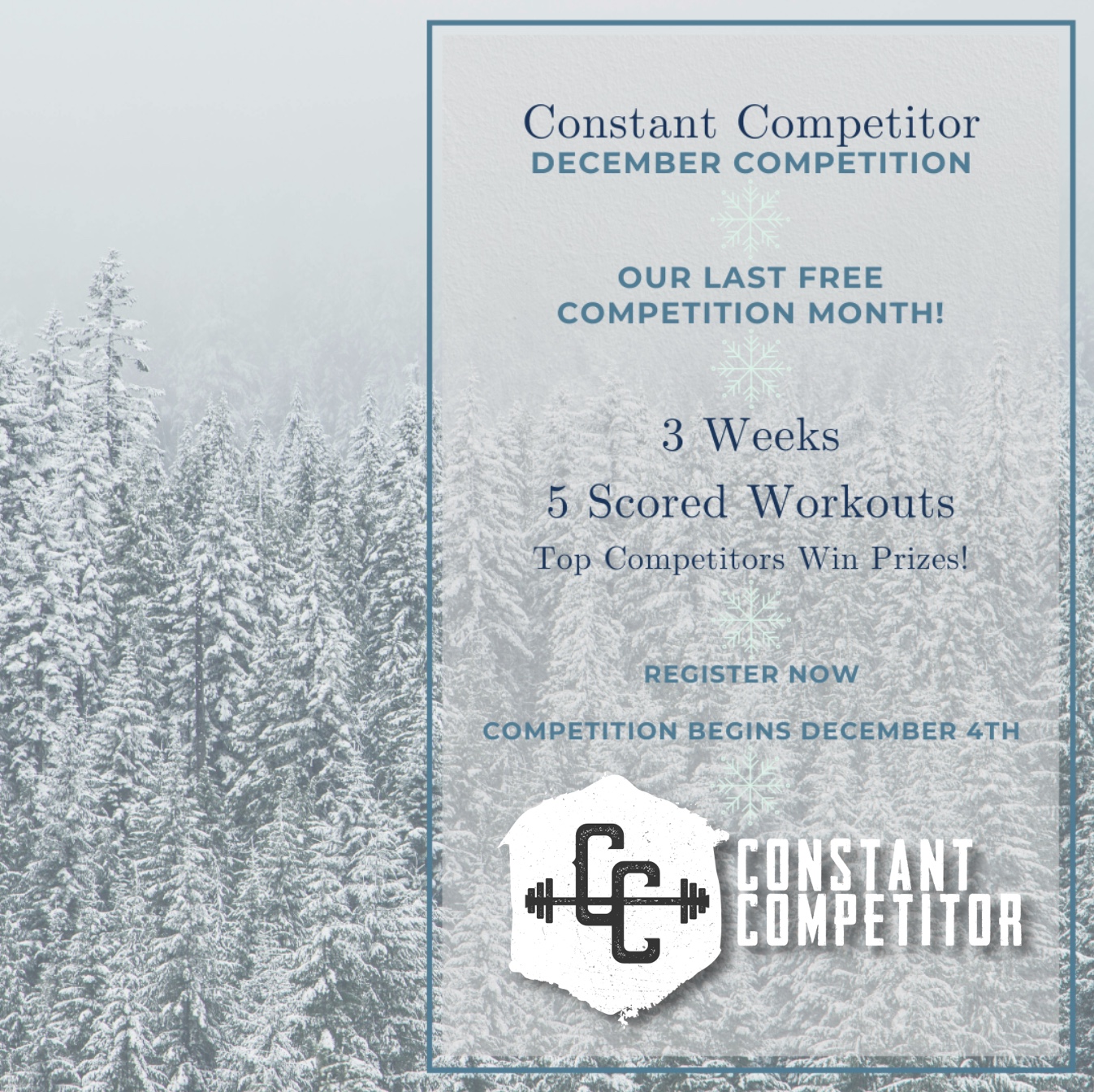 Price to compete: FREE
Optional Constant Competitor T Shirt or Womens Tank: $10
Individual Competitors, Advanced (Rx) or Intermediate (Scaled) divisions. No substitutions.
There are 5 scored workouts over a 3 week period
Workout Release Schedule
Week 1
TBA
Release 12/4 5pm PST | Submissions due by 12/11 5pm PST
Week 2
TBA
Release 12/11 5pm PST | Submissions due by 12/18 5pm PST
Week 3
TBA
Release 12/18 5pm PST | Submissions due by 12/25 5pm PST
________________________________________
Prizes
Advanced (Rx) Division
5+ Active Competitors: 1st place ($30)
if 10+ Active Competitors: 1st ($40) 2nd ($20)
if 25+ Active Competitors: 1st ($50) 2nd ($25) 3rd ($20)
Intermediate (Scaled) Division
5+ Active Competitors: 1st place ($20)
if 10+ Active Competitors: 1st ($25) 2nd ($15)
if 25+ Active Competitors: 1st ($35) 2nd ($20) 3rd ($15)
**An active competitor is someone who submits at least 3 scored workouts**
________________________________________
Prizes awarded to the top competitors who submit the required video proof with their scores (see below) in each division across all events at the end of the competition. Prizes are awarded in the form of E-Gift Card. Winners will be announced on social media as well as contacted via Email at the conclusion of competition after all scoring is complete.
Please see Constant Competitor - Prize Tables for further details regarding prize options.
________________________________________
Workouts are announced on Wednesdays at 5pm PST and score submissions are due by the following Wednesday at 5pm PST.
Video Submissions are not required, BUT, in order to win a competition prize you must submit at least 3 videos with your score submissions. This does mean that if you rank 1st overall and submit no video proof, 2nd place will be awarded the prize (assuming 2nd place submitted the aforementioned video proof).
The only way to win a prize without submitting any video is if nobody else in your entire division submits video proof either. In the event this occurs prizes will be awarded per overall rank.
You must also be prepared to submit videos of any scores you submit that are disproportionate compared to your average placement in other workouts. For example: if your average placement is 20th, however you submit scores without video proof that place in the top 5, those scores will be subject to invalidation.
To be safe, you should submit video proof with all score submissions, especially if you anticipate having a top score.
________________________________________
Scoring: Judgement of scoring is up to the discretion of Constant Competitor. Please ensure you read the rules and instructions of each workout and follow all movement standards to help avoid penalties.
Please note: any linked content referencing Crossfit belongs to CrossFit; such content is not the creation of Constant Competitor; Constant Competitor makes no claim of owning, being related to or owned or controlled by, being under common control with, or sanctioned by, approved by, or endorsed by, CrossFit.