FALLOUT 2
Onsite Competition for Individuals and teams
Event description
FALLOUT 2 Powered by Battleground Events

Saturday & Sunday, November 9 & 10 , 2019
Long Beach Convention Center
Back again for year 2, and now the largest functional fitness competition in CA! For 2019 we are using CF Games-Team Format (2 men / 2 women). 
We have once again partnered with Legion Sports Fest to bring you FALLOUT 2. All 3 workouts will be held indoors and there will be an affiliate village, however space is limited and there will be assigned spots for affiliate tents/canopies. 
Three Workouts-  2 Days of fun, One Awesome Venue.
The competition consists of 3 challenging events.  Top 3 make podium in each division after 3 workouts. 
TEAM FORMAT
4-Person Mixed Sex Teams (MM/FF)
DIVISIONS:
Beginner
Intermediate
Rx
Masters 40-49
Masters 50+
INDIVIDUAL ADAPTIVE DIVISIONS:
Seated
Standing Upper
Standing Lower
Price includes: 
Team Entry or Individual Entry
Realtime leaderboard and rankings
Personalized Competitor T-shirt (08/01/2019)
Personalized Team Name Plate (deadline 09/01/2019)
Complimentary Entry to Legion Sports Fitness Expo
Medals for top 3 teams in each each division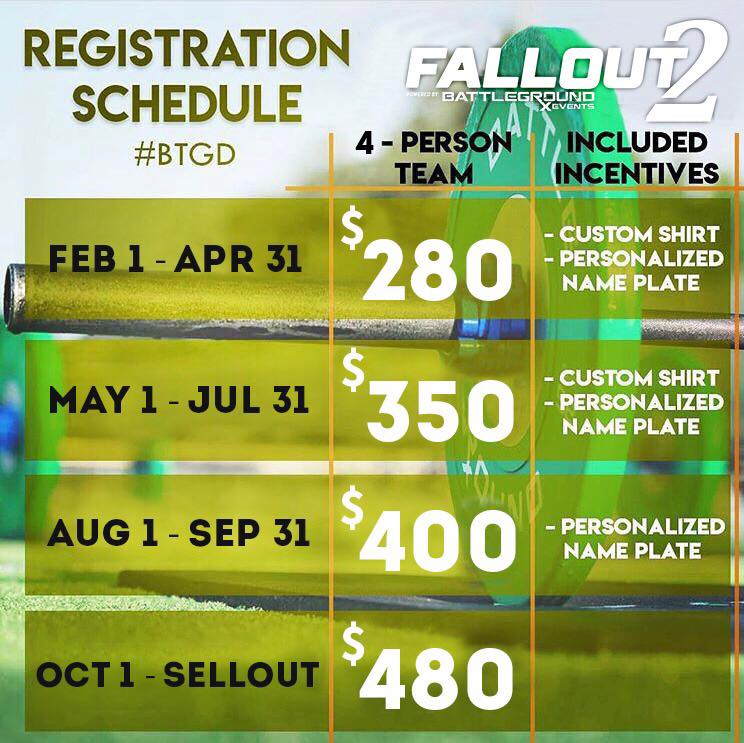 *IMPORTANT
Please be reminded that the personalized T-Shirt and Name Plate has strict deadlnie for registering.
All athletes will be required to complete a signed waiver available for download to print and turn-in at check-in.
SPECTATORS: Registered Competitors receive a complimentary entry to the venue which is inside the Legion Sports Fitness Expo. All spectators will be required to purchase an entry to the Legion Sports Expo to enter.
We have a strict NO REFUND policy.

There is extremely limited areas for affiliates to set up their resting areas and canopies. We are working on a designated area however there is no guarantee that this will be available so please plan accordingly.
SCHEDULE:
Friday November 8, 2019 12PM-7PM Packet Pickup
Saturday 11/9/2019 8:00-5:00 PM Beginner, Int., Masters
Sunday 11/10/2019 9:00-5:00PM Rx & Adaptive
WORKOUTS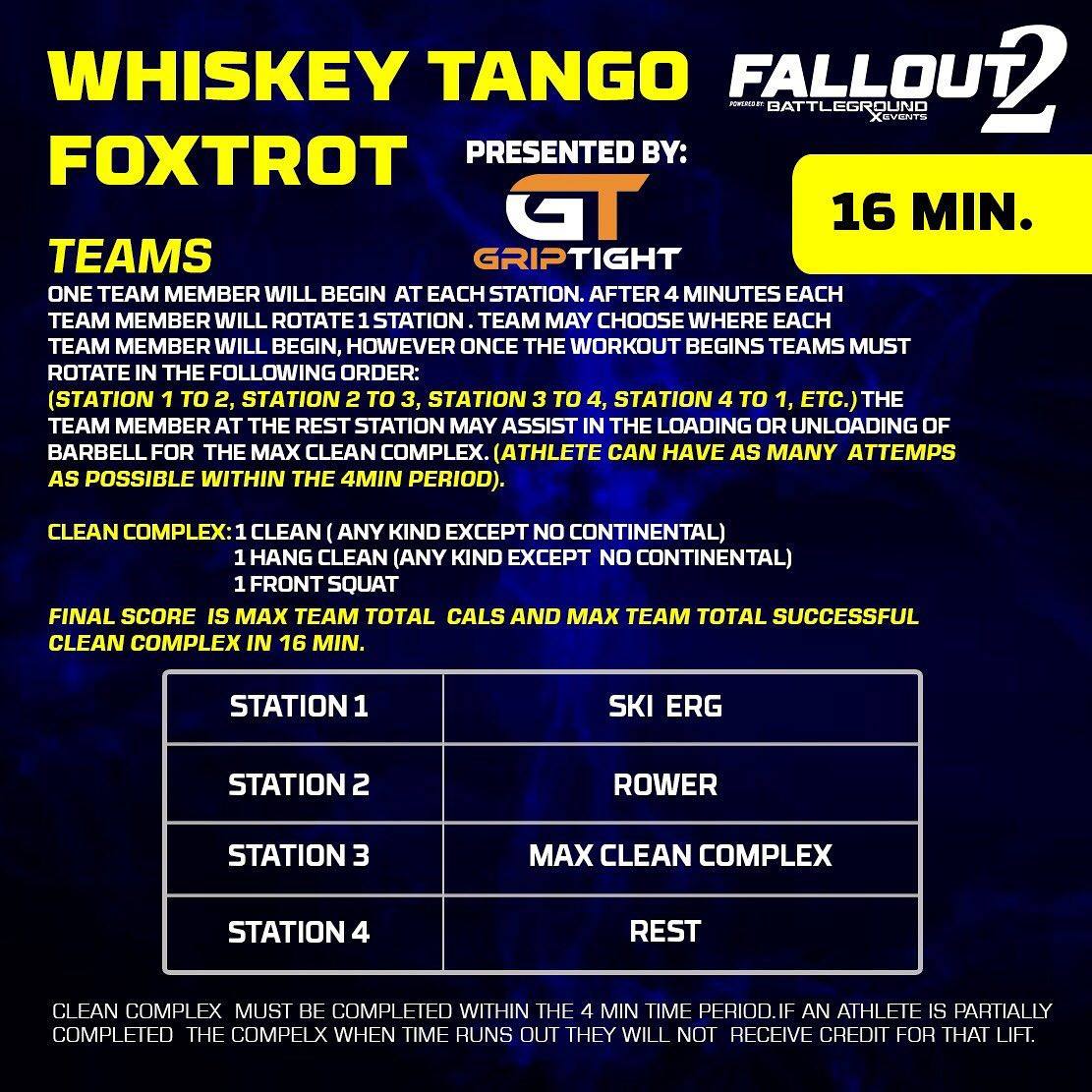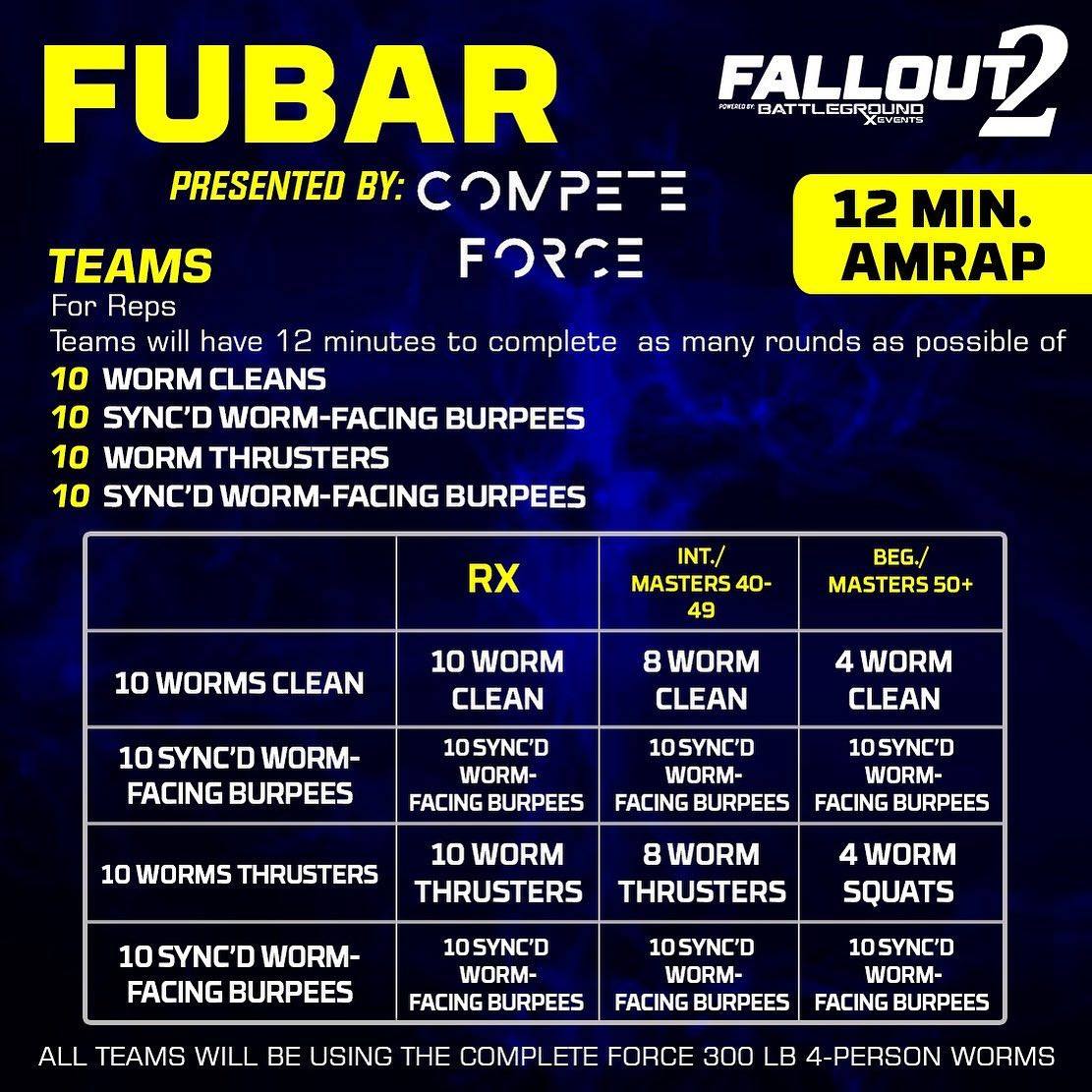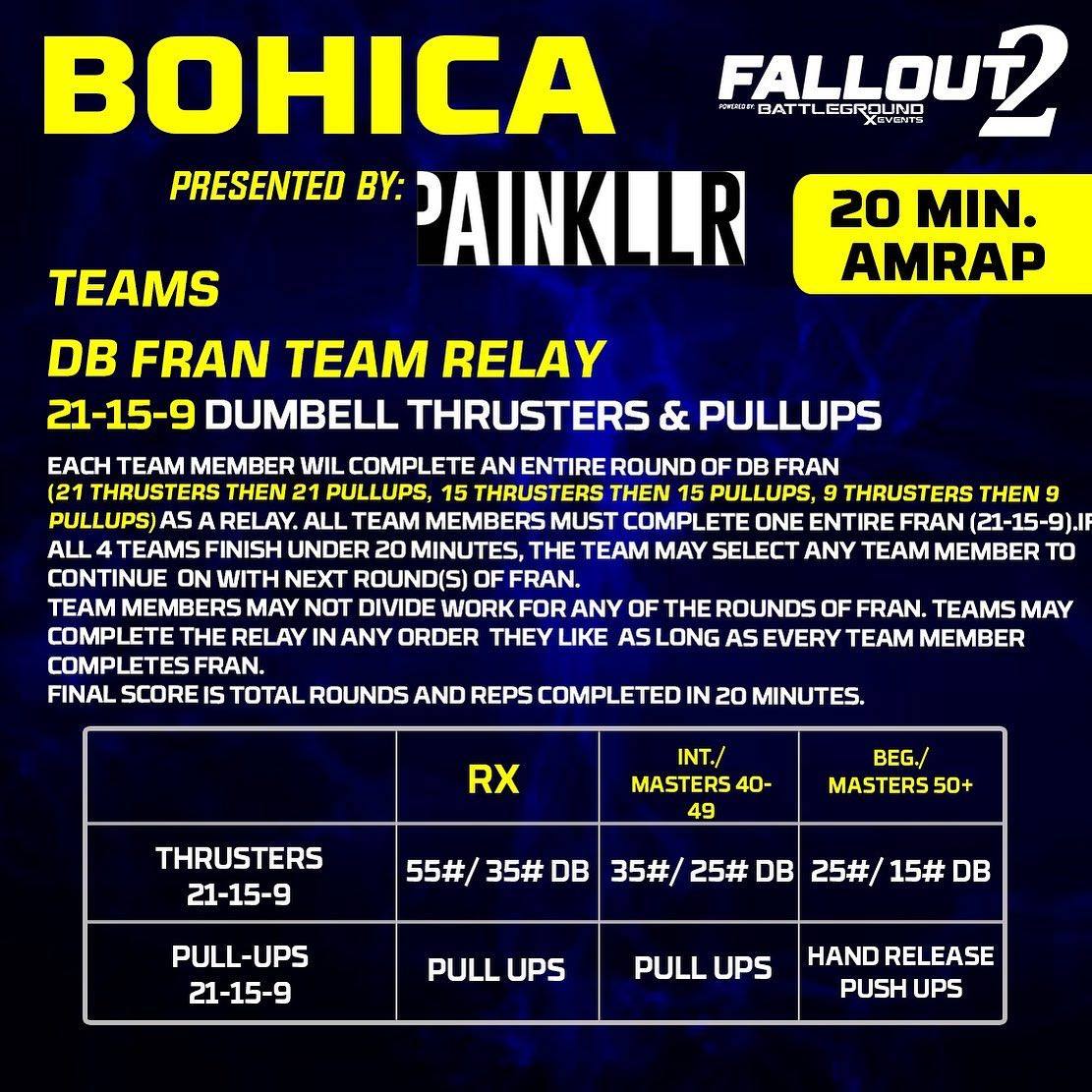 Workouts have not been announced. Please check back again...
Scoring: For Repetitions: More is Better
Fran Relay
21-15-9
Dumbbell Thrusters (RX-55/35#, Int. Mstrs 40-49-35/25#, Beg. mstrs 50+-25/15#) 
Pull ups (Beginners will substitute hand release push ups) 
Each team member will complete an entire round of DB Fran (21 thrusters then 21 pull ups, 15 thrusters then 15 pull ups, 9 thrusters then 9 pull ups) AS A RELAY.  All team members must complete one entire Fran (21-15-9).  If all 4 members finish under 20 minutes, the team may select any team member to continue on with the next round(s) of Fran.  Team member MAY NOT divide work for ANY of the rounds of Fran.  Teams may complete thre relay in any order they like as long as every team member completes Fran.  
Scoring: For Repetitions: More is Better
12 Minute AMRAP:
All teams will complete as many rounds as possible of:
Worm Cleans (Reps are as follows RX-10, Int Mstr 40-49-8, Beg. Mstr 50+-4)
10 Worm Facing Burpees (for all divisions) 
Worm Thrusters (Reps are as follows RX-10, Int Mstr 40-40-8, Beg. Mstr 50+-4) BEGINNER AND MASTERS 50 + WILL BE DOING SQUATS WITH THE WORM
10 Worm Facing Burpees (for all divisions) 
Scoring: For Repetitions: Less is Better
Station 1: Ski Erg
Station 2: Rower
Station 3: Clean Complex
Station 4: Rest
One team member will begin at each station.  After 4 minutes each team member will rotate 1 station.  Team may choose where each team member will begin, however once the workout begins teams must rotate in the following order:
(Station 1 to 2, station 2 to 3, station 3 to 4, station 4 to 1, etc.) The team member at the rest station may assist in the loading or unloading of barbell for the max clean complex. (Athlete can have as many attempts as possible within the 4 min period).
Clean Complex:
 1 Clean (Any kind except no continental) 
1 Hang Clean (Any kind except no continental) 
1 Front Squat
Final Score is max team total cals and max team total successful clean complex in 16 Min.