Box Crawl Sprint - Long Beach
Onsite Competition for Individuals and teams
Event description
The Box Crawl Sprint - Long Beach Edition!
Saturday, February 23, 2019
We've expanded and are heading to Long Beach! Don't worry, we still are planning on the Original South Bay Box Crawl this summer.
3 new boxes, 3 new Wods, about 3 miles for this Box Crawl Sprint.
Looking for something new and fresh to test your fitness? 
You've done 5 and 10k's.
You've competed in Competitions.
You've done mud runs and Spartan Races
 
You haven't done anything like this before.  
 
A combination between a fun run and a competition that will challenge firebreathers and novices alike!  
Our competition will span 3 gyms. We will test your abilities as well as your endurance in this unique and fun event. 
Three Boxes - One Fun Day
5150, Fittestry and DTLB are hosting a joint fitness competition for individuals and teams.  
The competition consists of one challenging event at each gym.  We will start at 5150 then run to Fittestry and end at DTLB . 
TEAM & INDIVIDUAL COMPETITIONS
We are proudly featuring both Individual and Team divisions in this year Box Crawl.  Test your fitness against the other individuals or partner up in a same sex or Co-Ed teams and join in on the fun! 
PRICING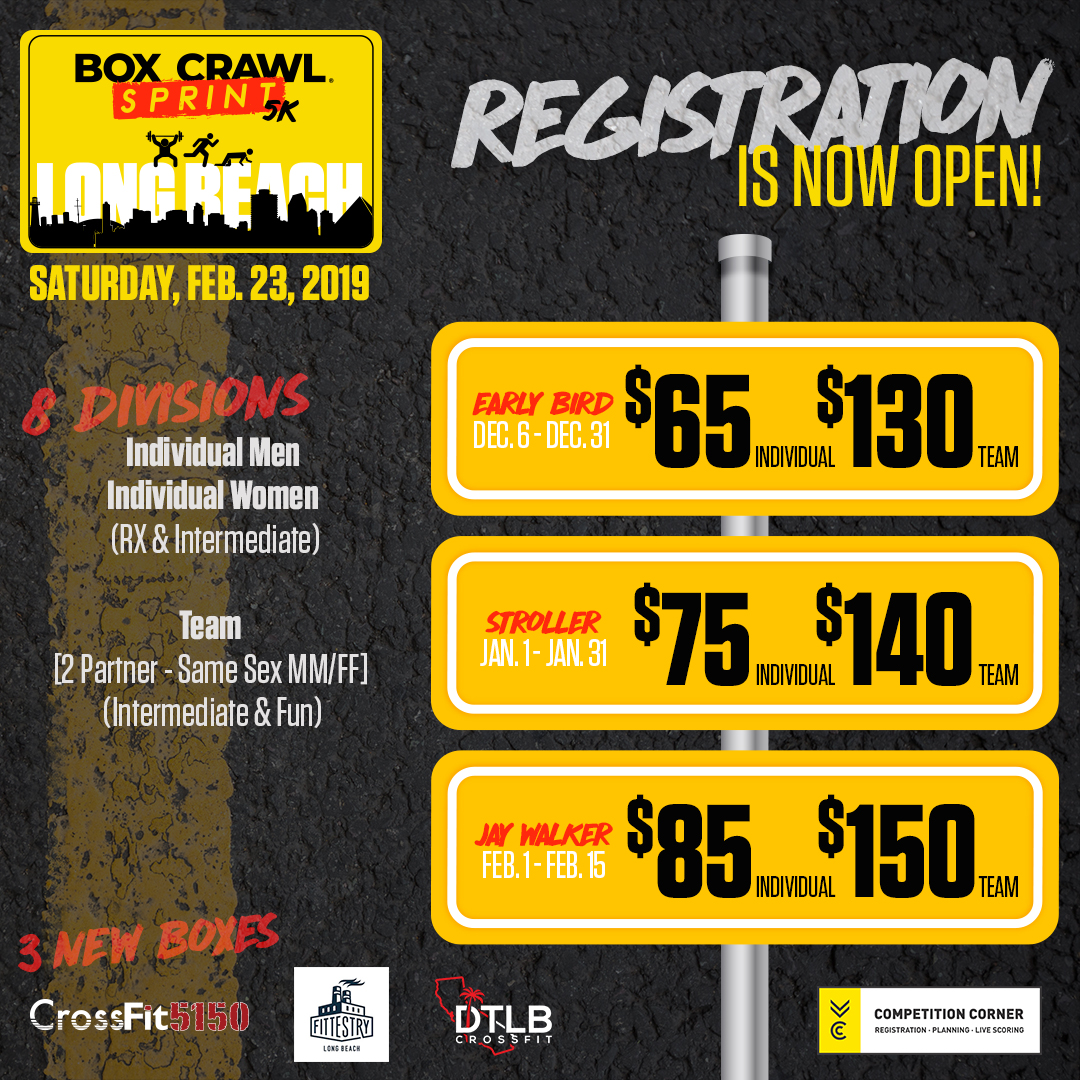 Individual - Competitive Division - $65 until Jan 1, $75 until Feb 1
Individual - Intermediate Division - $65 until Jan 1, $75 until Feb 1
Team - Intermediate Division - $130 until Jan 1, $150 until Feb 1
Team - Fun Division - $150 until Jan 1, $170 until Feb 1
Price includes: 
- Competition entry
- Realtime leaderboard and rankings
- Event T-shirt (next-level tees for men and tanks for women)
- Prizes for top 3 finishers in each each division
- Event entry is non-refundable
Register Now!
THE RUNS
We will run between each box.   Runs will be clearly marked and maps will be given out ahead of time.  Run distances are as follows: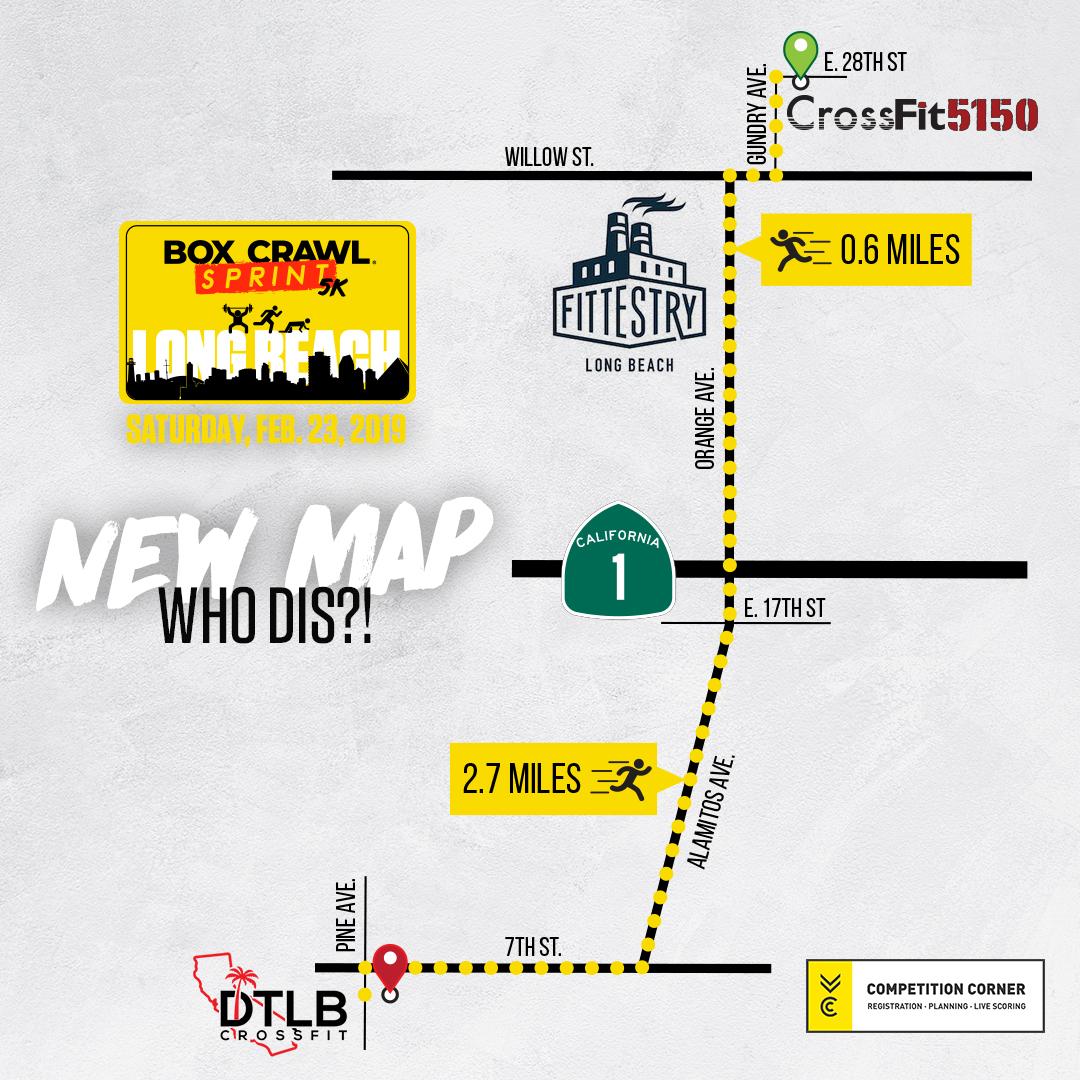 5150 to Fittestry - 0.6 Miles
Fittestry to DTLB - 2.7 Miles
EVENTS
The competition will consist of 4 scored events. Competitors will be ranked in each event individually to comprise an overall score.  We will use an Open style ranking.
Individual & Team Events
WOD #1 'FITTY-ONE-FITTY' at 5150
**TEAMS SHARE REPS
AMRAP 10
RX
30 Box Jump Overs (24/20)
20 C2B Pull-Ups
10 HSPU
INTERMEDIATE
30 Box Jump Overs (24/20) Step-Ups Allowed
20 Pull-Ups
10 Wallballs (20/14)
FUN
30 Box Jump Overs (24/20) Step-Ups Allowed
20 KB Swing (53/35)
10 HR Push-Up
WOD #2 'AMSTACLE' at Fittestry
**TEAMS SHARE REPS
Mandatory 2 minute REST as soon as you check-in with a judge
AMRAP 5
ALL DIVISIONS
15 CAL ROW
15 BURPEE OVER ROWER (INT & FUN: Step Over Rower)
Then do obstacle immediately after AMRAP to exit

WOD #3 at DTLB
DEADLIFT LADDER
(Video & Rules of this event to be posted end of Jan)
WOD #4 - Time Trial
The total running time starts from the time your heat starts at the first box ( 5150) and does not stop until you reach the last box (DTLB ). Competitors will be timed separately for their WOD at the first two boxes but will be included in their total running time.
All traffic and rules of the road listed in our athlete packet and video must be obeyed or disqualification may occur without refund.
Gym Locations: 
5150
1480 E 28th St
Signal Hill, CA 90755
Fittestry
2431 Orange Ave
Signal Hill, CA 90755
DTLB
501 Pine Ave
Long Beach, CA 90802
*Early check-in will be available the week of event, times & location TBA 
SCHEDULE
Saturday February 23, 2019 from 9:00 AM to 1:00 PM
Athletes please arrive no later than 8:00 AM for check in.

PARKING
TBA

NOTES
*T-shirt/tank design in progress and will be shared publicly when complete.
*All athletes will be required to complete a signed waiver available for download to print and turn-in at check-in.
*This is a SPECTATOR FRIENDLY event - Bring the whole family!
*No refunds
CONTACT
Do not hesitate to contact with us any questions about the event. Once we start to get questions we will address the answers in an FAQ section in addition to answering you personally.  E-mail us at BoxCrawl2@gmail.com, or send us a message on facebook.