Battleground SoCal
Onsite Competition for Individuals and teams
Event description
BATTLEGROUND SOCAL 2019
 Battleground SoCal returns to HArbor Sports Complex for 2019. Come out for an awesome competition that suuports a great cause. Proceeds from the event benefit Train 4 Autism Foundation's for Special Needs program.Train 4 Autism is a 501c3 Non-Profit founded by parents of children touched by Autism. April is World Autism Awareness month so this event is our way to spread awareness about this disorder that affects so many.

Three Events for ALL, +1 Additional Event for top 5 in each division-  One Fun Day, One Awesome Venue.
The competition consists of 3 = 1 challenging events.  Top 3 make podium in each division after 4 Events. 
NEW TEAM FORMAT
Rx, Int. Beginner 3-Person Same Sex Teams
Masters 2-Person Same Sex Teams
DIVISIONS:

INDIVIDUAL Male or Female
Beginner

Intermediate

Rx

Masters 40-49

Masters 50+
TEAM Male or Female
Rx

Intermediate

Beginner

Masters 40-49

Masters 50+

Special Needs
Price includes: 
 
Team Entry

Realtime leaderboard and rankings

Personalized Competitor T-shirt (deadline 12/31/18)

Personalized Team Name Plate (deadline 02/28/19)

Complimentary Entry to Battleground SoCal

Medals for top 3 finishers in each each division

Cash Purse for Top 3 in Rx divisions (Individual & Team)

1st Place Rx also get free entries to FALLOUT 2019
*IMPORTANT
Please be reminded that the personalized T-Shirt and Name Plate has strict deadline for registering.

All athletes will be required to complete a signed waiver available for download to print and turn-in at check-in.

SPECTATORS: Registered Competitors receive a complimentary entry to the venue. All spectators will be required to purchase an entry to the Battleground SoCal $8. Children 12 & Under are free
We have a strict NO REFUND policy.

Reminder this is an outdoor event and subject to unforseen acts of nature such as weather which may result in cancellation of the event for safety reasons.

Affiliates must adhere to rules and limit setting up of their canopies to designated areas.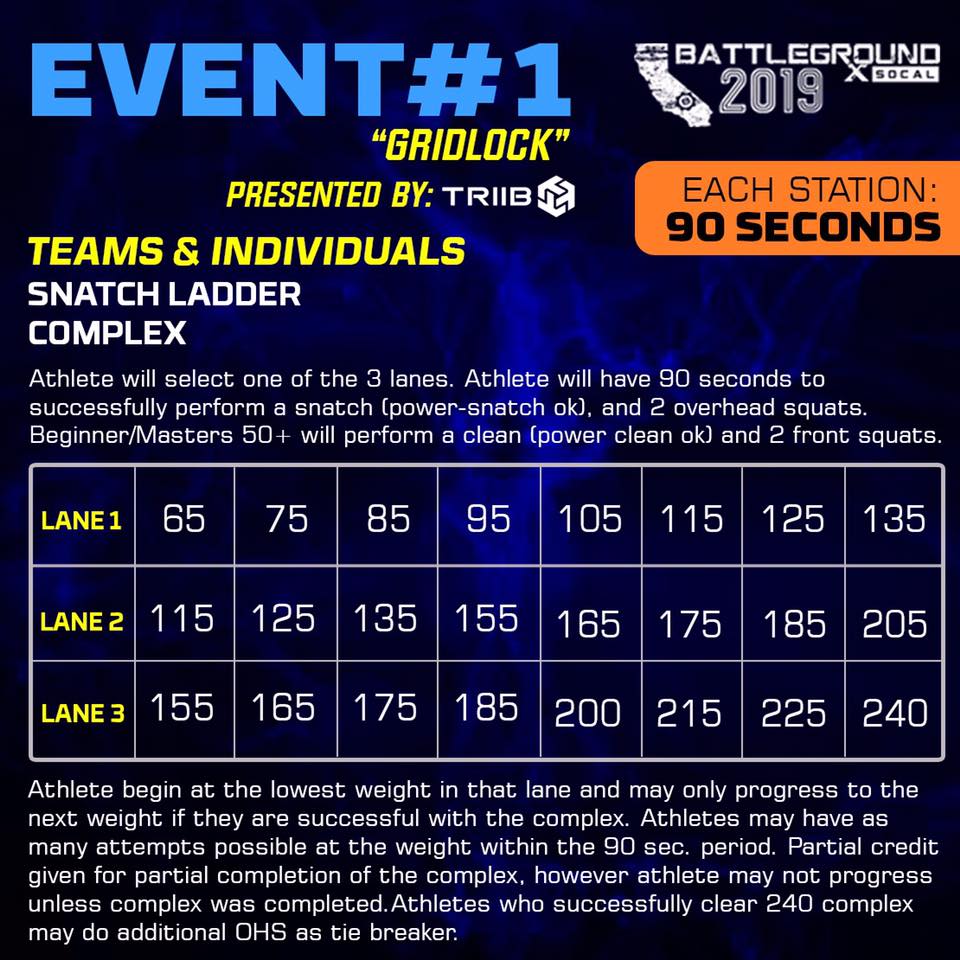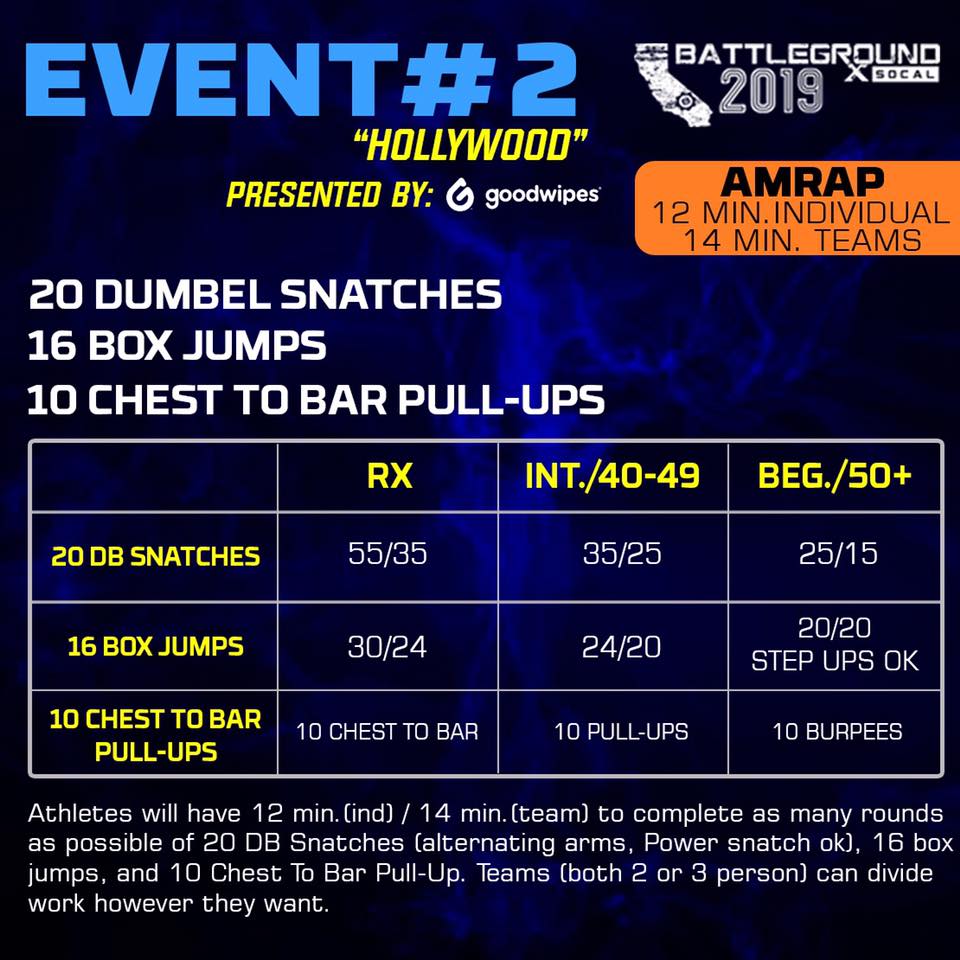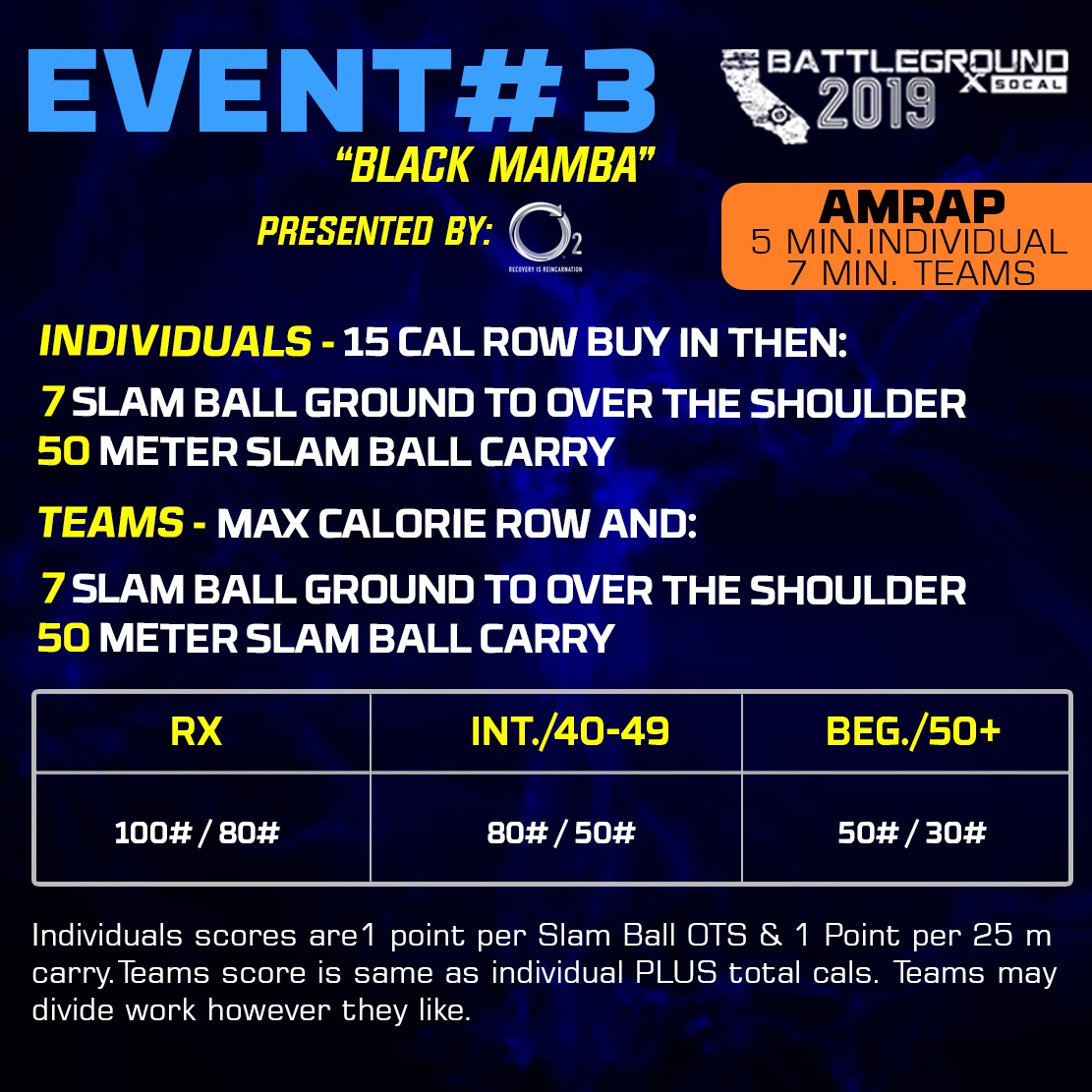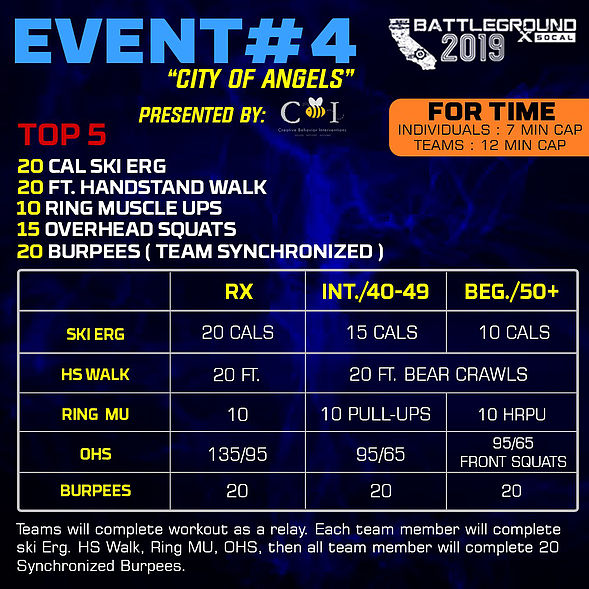 WHAT IS USAFF??
USA Functional Fitness (USAFF) is the national governing body for competitive functional fitness in the US. Headquartered in Colorado Springs, whose mission is to promote and grow the functional fitness as a competitive sport in the U.S. USAFF is an official member of the International Functional Fitness Federation (IF3), along with 23 other countries worldwide. The IF3 is a non-profit nonprofit governing body for competitive functional fitness, with the ultimate aim of getting the sport into the Olympics.
USAFF is responsible for creating rules, standards, and guidelines for governing competitive functional fitness in the U.S., as well as creating competitive opportunities for athletes of all ages and ability levels. USAFF is responsible for the creation of the functional fitness U.S. National Team which will represent the United States in sanctioned international competitions.
WHY IS USAFF RECOGNITION IMPORTANT FOR BATTLEGROUND SOCAL?
USAFF provides several important components for our comp and community:
*Safety Sanctioning
*Rules of Competition, and Movement Standards
*Judge Training and Standardization
*Supplemental Insurance Coverage for Competitors
*Battleground SoCal becomes an official qualifier for the USAFF National Championships, in Chesapeake, Virginia June 14-16, 2019
WHAT DOES THIS MEAN FOR OUR COMPETITION?
Battleground SoCal will become the first "USAFF recognized" event meaning our competitors will receive all the benefits of being USAFF members. Our event will be inspected and approved for safety by USAFF. Our competitors will receive USAFF supplemental insurance for the competition. Our judges will be trained and certified by USAFF judge training program. We will also adhere to the IF3 Rulebook and Standards. Finally, the TOP 5 Individual Athletes in Rx Division, and TOP 3 Teams in Rx division will qualify to compete in the USAFF National Championships in June, 2019- the TOP 5 finishers at Nationals will represent the U.S. Team at the International Functional Fitness Federation World Championships in Malmo Sweden August 30-Sept. 1, 2019.
HOW WILL THIS WORK?
All competitors that register on or after January 1st, 2019 will automatically be registered as USAFF members as part of your Battleground SoCal Registration. Athletes who have already registered or registered prior to Jan. 1st can "opt in" and purchase USAFF membership. 1-Day Memberships will be a discounted $10 per athlete. Athletes wanting to qualify for USAFF Nationals MUST be USAFF Members.
If you registered prior to 01/01/2019 you can purchase your opt in USAFF membership HERE.